Running a successful restaurant operation requires more than just serving great food. While many owners/operators choose the restaurant business because they have a desire to share their love and passion for food with others, the reality is that the bulk of restaurant operations is composed of seemingly mundane, but necessary, daily tasks.
The average restaurant team spends between 8 and 9 hours daily on operational and safety-related tasks such as labeling food, sanitizing surfaces, checking temperatures inventory, filling communication logs, and tracking food production. 
With so much time spent on operational tasks, employees can lose track of their priorities and end up completing safety and hygiene tasks in an unsatisfactory manner. The challenge is compounded when establishments are busy or understaffed. Poor priority management can also affect customer service and impact the quality of food.
Employing additional staff might mitigate some challenges, but it won't solve everything. Operators need a way to make the employees that they do have more efficient and effective at fulfilling their responsibilities. The right task management technology can streamline task execution, decrease time spent on reports, reduce paperwork and administration, and provide real-time operational transparency.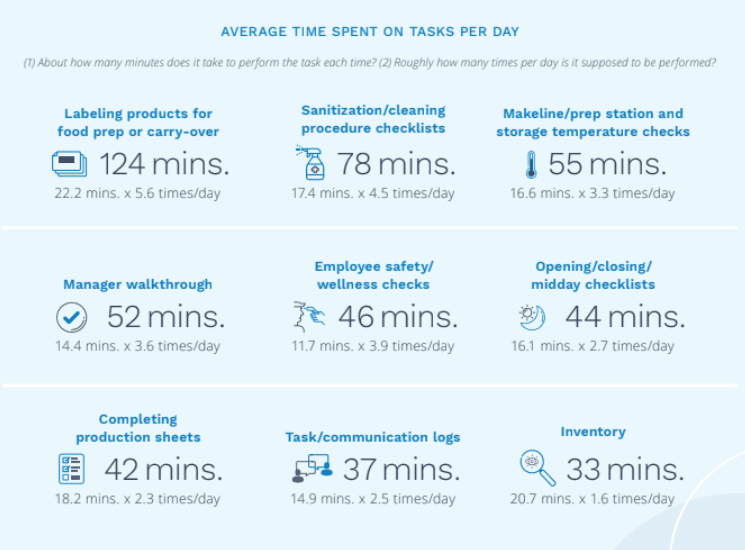 4 Key Elements of Efficient Task Management
We've identified four key elements for streamlining your restaurant's task management operations so your team can focus more attention on enhancing the customer experience and producing quality food.
1. Quick, Effective Communication
Combine a brisk business with broken or ineffective means of communication, and standards can quickly slip... and patrons will be the first ones to notice. On the other hand, in a busy eatery where tasks are executed properly and there is streamlined communication between the front-of-house and back-of-house, service improves on every level, and your customers will appreciate the difference.
A restaurant operations system with built-in communication tools keeps all departments on the same page. Restaurant operations managers can automatically assign tasks, communicate with the team, and feel confident about the quality of task completion with real-time reports and completion notifications.
2. Consistent and Quality Execution
Relentlessly maintaining your product and service standards plays an important role in heightening customer satisfaction levels and building loyalty. Customers are often willing to spend more or drive a little further for food they love and trust. Knowing you consistently provide a flavorful chicken sandwich or serve exceptional coffee is enough to bring a customer to your door, confident their expectations will be met. Plus, word-of-mouth referrals can quickly boost your customer base count.
This applies to customer service as well. Consistently providing exceptional service in addition to great quality food enhances your brand reputation.
Efficient task management and checklist implementation deliver consistency across every aspect of your operations. It's the smart way to ensure every employee—from a field manager to a prep line worker or dishwasher—adheres to brand and quality standards, an imperative in the competitive world of foodservice. Inconsistencies—no matter how small—can have a big impact on brand reputation.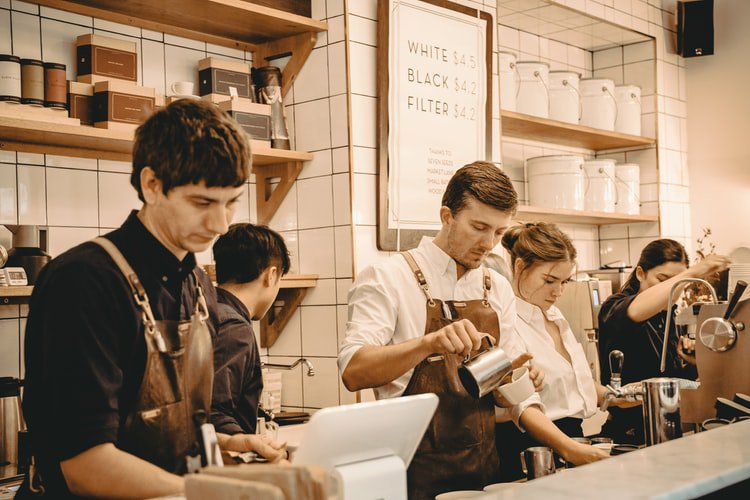 3. Adapting to Evolving Customer Expectations 
In our fast-paced, pandemic-stricken world, consumer must-haves and wants are changing steadily, and operators must stay in tune with these shifting priorities in order for their businesses to grow. But amid the profound change, the fundamental business principle of knowing your customer and keeping them happy endures.
Restaurant ambiance and pricing were once primary considerations for restaurant patrons. Things have changed... takeout, delivery, and online ordering options are now equally important, as are restaurants' food safety records. The customer demand for easy and safe access to food has skyrocketed the use of curbside pick-up and third-party delivery services.
Balancing in-house, takeout, and delivery orders can be overwhelming for restaurant staff, but the right tech platform can make a significant difference. Smart tech solutions facilitate front- and back-of-house communication and streamline the order flow in one easy system, thereby improving efficiency, speed, quality, and ultimately, customer satisfaction. A digital ticket system complete with timers, sound alerts, and detailed views for clear orders will minimize wait times and the number of mistakes made in the preparation and service process.
Providing your kitchen staff with an efficient order management system will allow them to focus on creating great food and providing excellent customer service instead of wasting time clarifying details, fixing mistakes, and searching for misplaced orders.
4.

 

Real-Time Insight and Visibility Across the Operation 
The restaurant and foodservice industry has undergone massive operational changes due to the pandemic, and adapting your operation to the new protocols, rules, and evolving consumer demands will dramatically affect your business's bottom line.
Using tech integration to bring together task management and communication across your restaurant operations can save you a lot of time and significantly improve all-around performance. From inventory and safety checks to audits and staff hygiene, managers can access real-time operational progress at any given time.
While some restaurant operations are hesitant to undertake the migration to tech, providing customers and employees with digital solutions in a competitive industry should be a priority.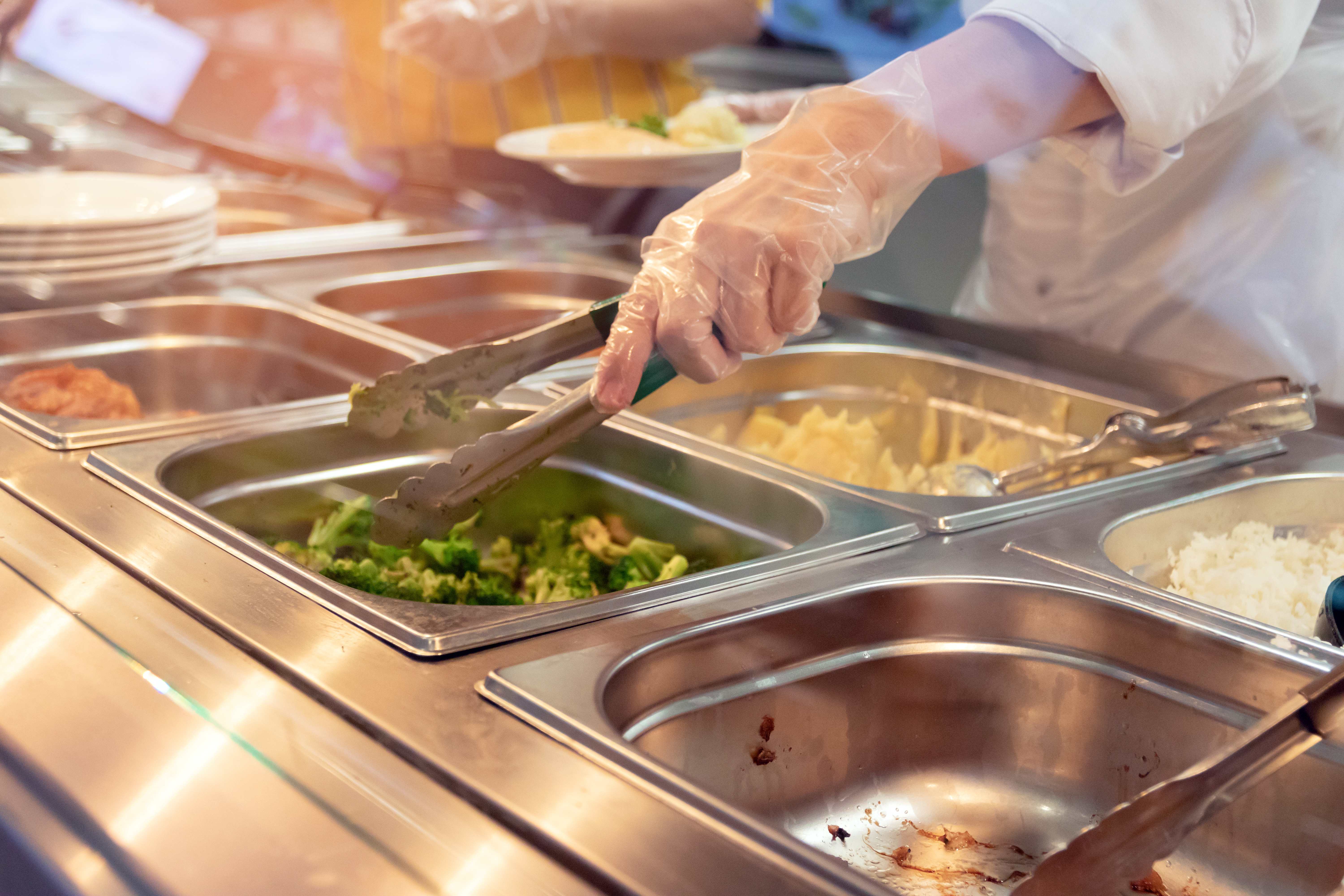 Operate at a Higher Level and Unlock Opportunities to Grow with the Cutting Edge Technology

Customers are slowly but steadily returning to in-restaurant dining, and while the industry won't always have to contend with pandemic challenges, there are many lessons to be learned and new opportunities for growth to exploit. As customers return, it is imperative to maintain an excellent standard of hygiene and cleanliness without compromising food quality or customer service.
As staff are already under pressure to meet even stricter brand and safety standards, sticking with error-prone and time-consuming manual processes is risky. Zenput's cutting-edge technology streamlines your operations with automatic alerts, scheduled task allocation, and fast digital form completion.
Our intuitive tech solutions can be seamlessly be integrated with other systems and provide real-time reporting, thereby empowering you to make critical business decisions faster. Simplify your restaurant operations with our smart task management platform by scheduling a Zenput demo today.