For decades restaurants have used checklists to assign work in their stores and track its completion, from food safety procedures to cleaning specific areas of the restaurant and more. But the digitization of checklists and broader operations work has made this tool more powerful than ever as a means to enforce compliance with operating procedures and improve performance system-wide.
A Clear View of Upcoming and Already Completed Work
Restaurant teams use Zenput's task management capabilities to centrally assign, track, and instantly report on recurring and ad-hoc work across each location and to enable staff to use their time productively and do their jobs well. Store and field employees get a clear view of what work must be completed – and how and when – and can easily submit critical work such as forms, product quality photos, and makeline temperature checks.
Operations leaders schedule recurring and ad hoc work that can be automatically assigned to staff. If any issues arise, staff are instantly assigned follow up tasks and corrective actions, and managers receive alerts and status updates. Managers can also drill down into each task to gain a better understanding of quality and details.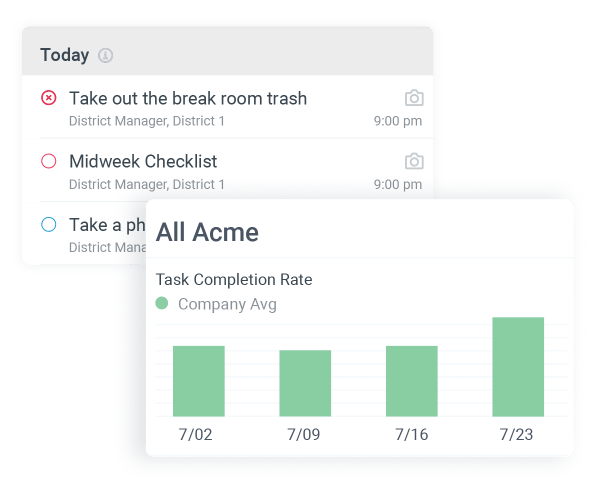 Holding Stores and Management Accountable for Completing Work
Managers are alerted when one or more of the assigned tasks—on a checklist, for example— is not being completed or is not being properly executed. Managers can hold employees accountable for finishing tasks and address what's not getting done and where. Alternatively, you can also take the opportunity to reward staff for their dedication at the end of a long day or a long night.
Automatically assign corrective actions
Historically, one of the main problems with checklists is that if the work is not completed correctly (or at all) there was little accountability for correcting it.
By digitizing operations checklists, you can set up your system to trigger follow-up work automatically based on certain answers. For example, if the checklist asks a store manager if the makeline and cut tables were cleaned (with a photo submitted as proof) and the answer is "No", you can have this alert the district manager and automatically assign the store manager with a new separate task to complete this work. This holds the store manager personally accountable and gives the district manager visibility of the situation.
The Benefits of Digital Restaurant Checklists
Regardless of how many restaurants you manage, checklists help your staff focus on what's important to your business. This allows you to streamline daily tasks and processes, drive compliance in real-time with your standards, and reduce labor costs. Checklists lessen forgetfulness and human error, reducing the time it takes for task completion while improving the quality of execution. 
When you give staff the tools they need to complete opening and closing responsibilities, they clock out earlier, decreasing labor costs and increasing profits. The industry standard for labor costs is about 20%. If you're spending any less, customer service could be suffering, but if you're spending more, you might have a blown budget and staff members sitting idle. Your customers benefit from a more positive experience because when tasks are consistently completed on time, your operations run more smoothly.
A huge benefit of using digital checklists is that if you need to add a new step to your checklists or create new checklists ASAP, you can edit and deploy changes to every store instantly.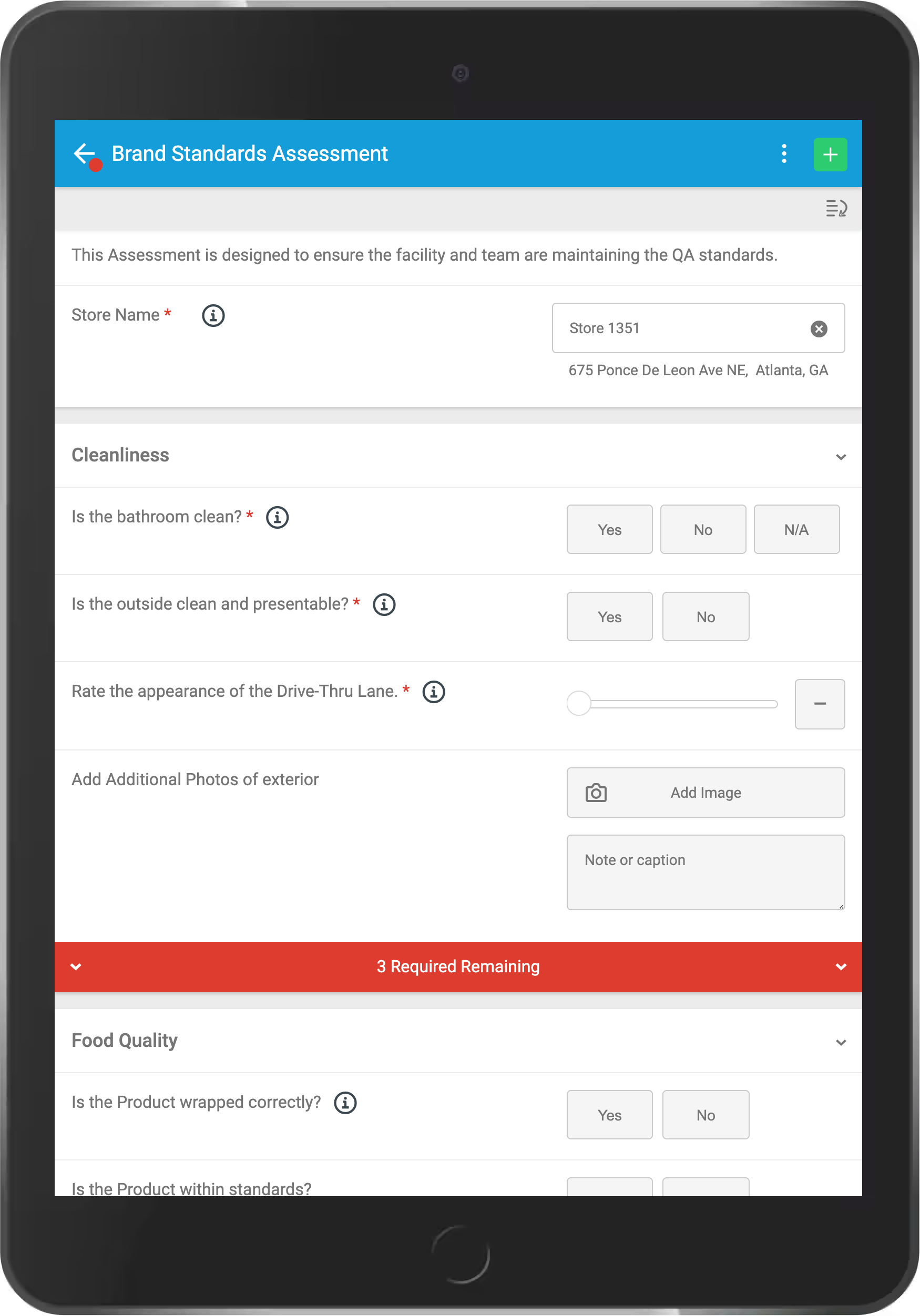 Powerful Insights for Operations Leaders
With all your stores using digital standardized checklists, operations leaders unlock all sorts of powerful data about their stores and operation that fuel better decision making for growing and optimizing the business. For example, in real-time, you can answer questions such as:
What are the top and most common issues across the operation?

Which regions/stores have the best or worst completion rates, and why?

Which stores have or haven't completed each task.

Which stores had issues or performed work incorrectly.

What are the outstanding items or follow-ups that need to be completed?


 
Checklists have matured to a new level of importance in how operators can enforce compliance against key procedures and better manage how work gets done in every store.
Below is an example of common food safety checklist items for a restaurant, in bold are ways in which using digital checklists improves the quality of the work and holds teams accountable:
All food contact surfaces confirmed clean, sanitized before food preparation commences with that equipment by 9 AM (assign a task to be completed at a specific time before all other tasks can be started)
Check all ingredient dates - toss all expired products (if employee discards product, a follow-up question can be asked e.g. is there enough product for the next shift)
Check for pre-poofed dough for tomorrow (submit a photo of the pre-poofed dough)
Place any items that expire end of next day in red tray (employee can make note of expired items so a list can be compiled for reorder)
Check that store has proper PPE equipment stocked (if marked, out of stock alert is automatically sent to manager)
Check that grill makeline items are at the proper temperature (require the use of a Bluetooth thermometer for more accurate temperature readings)
All equipment and utensils are free from cross-contamination (submit a photo of kitchen equipment and utensils)