Food safety is a never-ending battle for multi-unit operators. The health and safety of your customers and employees are on the line – not to mention your bottom line, and food safety auditors help ensure that restaurants are up to par. Operators are constantly looking for ways to improve food safety in every location, and make sure that food safety auditors leave their restaurants satisfied. 
Learning more about what food safety auditors look for and what to do to prepare for your inspection will help ensure your compliance with brand and government standards.  Prioritizing food safety also ensures a top-notch experience for your customers, making it a win-win strategy. There's a lot to keep track of, so let's break down what food safety auditors are looking for in an easy-to-understand way, ensuring you will pass food safey audits with flying colors.
The Food Safety Auditor's "Checklist"
The Food and Drug Administration (FDA) has passed a number of regulations over the years to maintain quality in restaurants and prevent food borne illnesses. While this might seem complex at first, in reality, there are seven basic points that you must pay attention to. Each of the following seven categories can be considered a checkpoint that you should have covered before the audit begins.
Food Temperature Control

- Perishable items, from fresh produce to meat and dairy products, need to be kept at the correct temperature in order to prevent them from spoiling. In general, cold food should be stored at under 41℉ while hot food needs to keep at a constant temperature of over 135℉.

Food Storage

- Refrigerators and freezers must also be set and maintained in ways that

guarantee the safety of the food items they hold

. Storage spaces that are not temperature controlled must be clean, dry, and cool, away from natural light.

Labeling prepared foods

with "use-by" dates ensure that items will not go bad while in storage.

Food Preparation

- Be sure to have proper facilities for the washing and preparation of food. Employees also need to be trained on proper food preparation techniques that protect their safety and prevent food from being contaminated while being prepared.

Facility Setup

- Specific requirements for facilities that store, handle, and prepare food vary. But, in general, all facilities need to have separate hand sinks and cleaning sinks, and access to hot water. Bathrooms should not be used for storage and living quarters within a food facility are generally prohibited.

Employee Hygiene

- Hand washing facilities, hair coverings, and disposable gloves should be made available to all employees who handle food items. It's also essential that break or lunch areas are completely separate from the food storage and processing facilities.

Cleaning and Sanitation

- All surfaces and equipment used in food preparation must be kept clean at all times. You also want to store chemicals and other cleaning supplies in such a way that there is no risk of contamination.

Legal Documentation

- Health safety permits, allergy and nutrition info, and all other health-related signage should be posted in easy to access locations. Employees should all possess the required certifications for their roles (food handlers certification etc.), as defined by the local health department.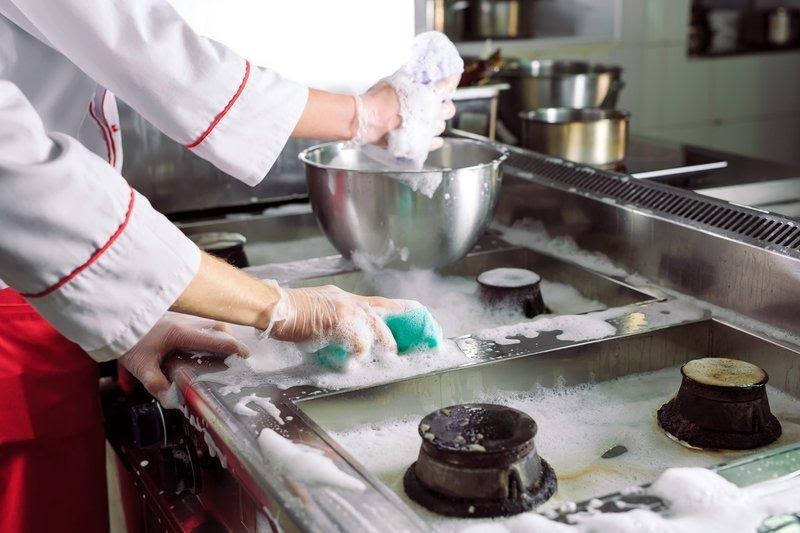 Creating a HACCP Plan for Your Restaurant
A Hazard Analysis and Critical Control Point (HACCP) plan is designed to identify, analyze, and control all potential threats to the safety of the food served in your restaurant. While this may sound daunting, in practice, this will save a lot of time and pain in the long run. It is just one short additional step in the training of your employees.
A long list of HACCP guidelines and application guidelines has been laid down by the FDA, but they revolve around two basic principles: describing the processes used in your facility and then establishing actions and procedures that address the points where threats to food safety may arise.
In general, there are three specific actions that you should take to implement your HACCP plan:
Set Critical Limits:

Critical limits are measurable parameters that need to be met in order to maintain food safety. A good example is a particular temperature needed to cook chicken so that no bacteria survive. Set these critical limits for all Critical Control Points (CCPs) identified in your HACCP plan and then integrate them into your training, signage, etc.

Create Monitoring Methods

- Once critical limits have been established, the next step is to create forms of monitoring them so that you can be sure they are adhered to. For example, to ensure that the critical limit of cooking chicken at a high enough temperature is always maintained, you could install a thermometer device in that cooking station.

Delegate Responsibility

- It's important to remember that everyone is responsible for food safety, but you can still delegate certain monitoring roles to specific employees. Those that open the restaurant for example could be responsible for cleaning and sterilizing all customer-facing areas while those that close up could be responsible for labeling and storing items in accordance with your HACCP.
Preparing for a Food Safety Audit
There are many ways to prepare for a food safety audit but the best way is to run an internal audit prior to the inspection date. This allows you to identify any weak areas and places where your HACCP plan has not foreseen or controlled a threat to food safety. Fix these issues prior to inspection day.
It's also a good idea to review standards in your regular staff meetings. Keeping employees aware of food safety issues and the HACCP plan you have implemented is a sure way to make sure controls are maintained
Finally, get all your documents in order before the audit takes place - don't be caught scrambling at the last minute! Have everything ready for the auditors so that they see you are prepared and ready for them.
Further Reading [eBook]: Developing a Food Safety Audit Process
How Zenput Can Help you Prepare for Your Food Safety Audit
Food safety and QA leaders use Zenput to stay on top of all of the measures needed to prepare for and successfully pass a food safety audit. The platform gives your team both the tools and the accountability needed to implement your HACCP plan and equips management with all the visibility needed to oversee it. Check out our video on how restaurants, convenience stores, and grocery stores use the platform to improve compliance against their food safety procedures.