We'll get through this, together
Use Zenput for free to support your COVID-19 action plans through August 31
During this critical period, we are offering operators new to Zenput free use of our platform through August 31 to remotely roll-out and ensure compliance with all procedures and key initiatives (e.g., COVID-19 processes, food safety, marketing promotions).
This free program includes the following
Digitized Operating Procedures | Pre-built COVID-19 Checklists | Task Assignments & Alerts | Compliance Tracking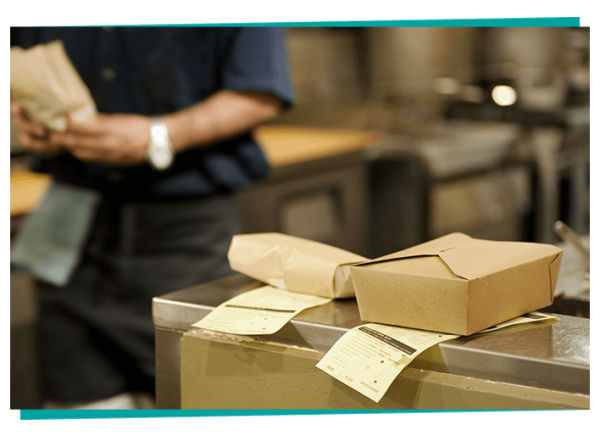 Digitized operating procedures
As you look to execute your plans to gradually reopen locations, you can build into Zenput the procedures and tasks you need each location to follow in the form of digital checklists, audits and reports.
Here are just a few of the ways you can use Zenput to manage your operation remotely:
Roll out safety processes (e.g., sanitation checklists, employee wellness screening)
Ensure compliance with food safety protocols to manage risks tied to delivery
Implement marketing promos to draw customers to takeout options
Get clear visibility into execution of core ops procedures as you begin to reopen locations
Customizable COVID-19 checklists
When you log-in to your instance of Zenput, you will already have access to pre-built COVID-19 forms. Use these checklist templates or fully customize them to match your specific processes.
Here are just a few of the ways you can use Zenput to manage your operation remotely:
COVID-19 Store Sanitation Checklist
A cleaning checklist including customer facing areas, restrooms, kitchen, and more.
Download PDF Checklist
 

COVID-19 Employee Screening & Incident Report Checklist 
To be used for health checks before employees start their shift or when someone is showing symptoms.
Download PDF Checklist
 

COVID-19 General Information Communications
Used to communicate specific information such as the what to do if an employee is showing symptoms or cleaning procedure instructions.
Download PDF Checklist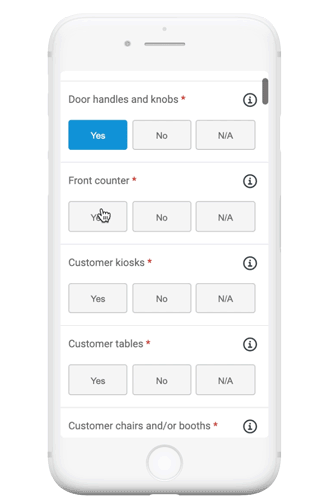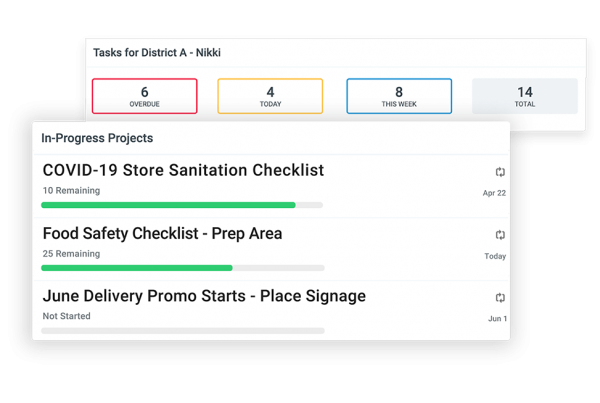 Task Assignments & Alerts
Instantly assign out processes to all your stores, or specific locations. Automatically send alerts to field managers or ops leaders based on the information submitted.
Compliance Tracking
Real-time visibility into which locations have completed which tasks, allowing you to focus limited resources and support to where it's needed most.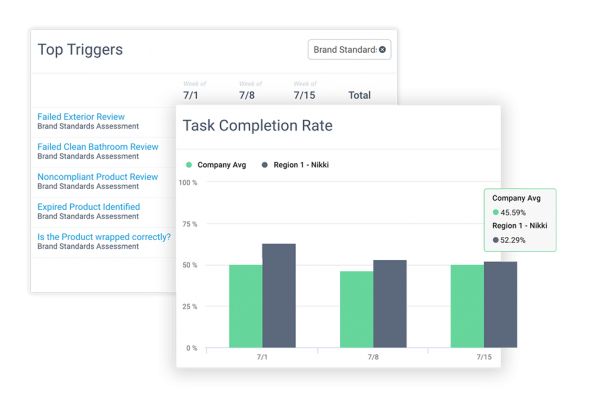 How do you get started?
It's easy. Complete this sign-up form to enable your COVID-19 action plans through Zenput, at no charge or obligation, through August 31, 2020. Once you submit your information, a member of our support team will be in touch asap to get you started.
To get a closer look at how the free program works and how you can use Zenput to manage your operation remotely, check out this quick video overview (3 minutes).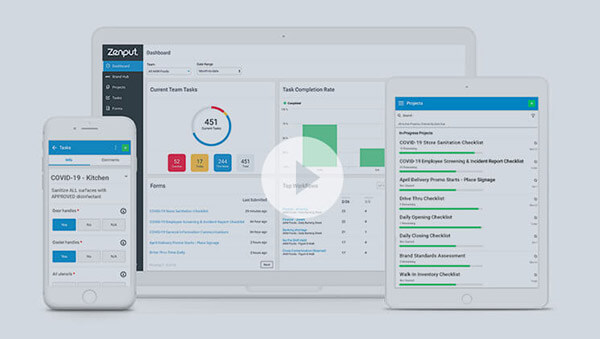 If you have any questions, please review the frequently answered questions or feel free to contact covid19support@zenput.com.