Running, and growing, a multi-unit operation is tough. There's always more work to do in the spirit of helping stores succeed and exceeding quality expectations for customers. But operations leaders are ambitious, and when asked what their goals for the next year or two are, they'll often share their plans to open their next 10, 50, or 100+ stores. Yet without the right strategies and systems in place, dreams of expansion are often slowed to a crawl or quality suffers in older stores as attention is redirected to newer ones.
Scaling a multi-unit operation is about capacity and capability.  The savviest operators look at every aspect of critical work like food quality, sanitization, audits, and more that make operations successful–and wonder how each one, big or small, can be done better or faster. Operations leaders are increasingly directing their attention to the success of their teams – the people in the field and in every store who work hard every day – by deploying innovative strategies, processes, and tools to make their employees more productive and setting them up to do quality work each shift.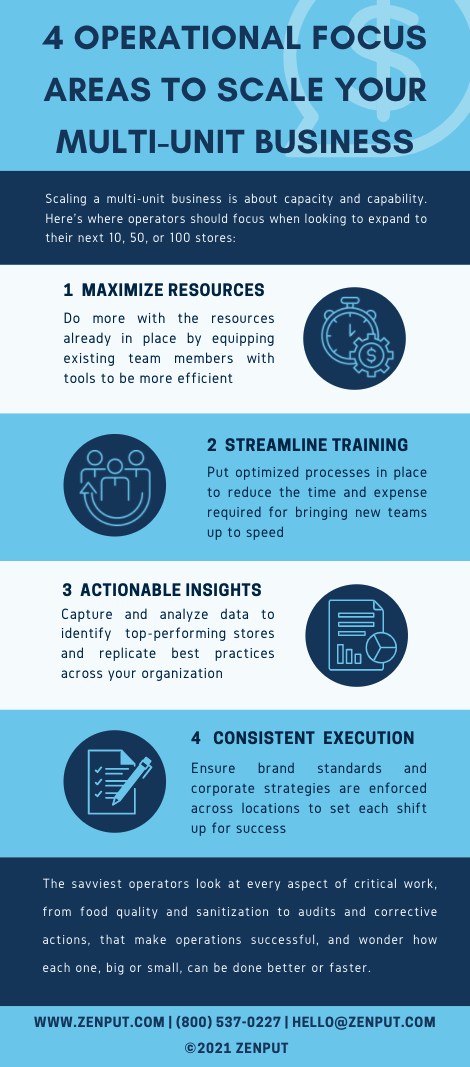 Embracing technology can play a major role in scaling your business and run a more agile operation. Operators need the right tools to realize initiatives, communicate with teams, and ensure execution across critical areas, including brand standards, food safety, and marketing/promotions.
With the right mix of technology in place, you can optimize core operating procedures, have real-time visibility into all operational areas, and empower all employees, from headquarters to store level, to become more productive and more accountable. Deploying a tech platform can help reduce costs, increase customer satisfaction, enhance your brand, and ultimately spur long-term, scalable growth.
For a deeper dive into the many ways, multi-unit operators leverage Zenput to elevate team execution and achieve scalability—and to learn how you can do the same—download the Zenput Guide to Agile Operations Execution today.