As a multi-unit operator, you expect your stores to complete certain activities and processes every day – meeting your brand standards, following food safety protocols, etc. Knowing whether or not your stores are completing this work is often a huge challenge in itself, but once you know which stores aren't completing the work the question becomes "how can I improve completion and compliance in my stores?" 
At Zenput's recent OpsX'21 user conference, Michael Sconiers, Project Manager at CKE Restaurants (Hardee's and Carl's Junior), and Zenput CSM Rochelle Timmerman shared details about how multi-unit operators not only track compliance against key processes, but also how to improve compliance against them.
How to Measure Process Compliance in Zenput
For Zenput customers, the quickest and easiest way to measure compliance in Zenput is by looking at task completion rates. This is the number of completed tasks divided by the total number of assigned tasks. For example, if you assign out 10 tasks and only 5 tasks of the 10 were completed, that would be a task completion rate of 50%. Task compilation rate mainly applies to daily, weekly, or monthly recurring tasks, such as opening and closing checklists and temperature logs. Depending on your level in your company's hierarchy, you will either be able to see the completion rates for your store (or stores), or, if you are at a higher level you may be able to drill down to see the task completion rates of different regions, teams, and stores.
Best Practice: The most in-depth and valuable way to measure your task completion rate is the Project Completion Recap Report. This report will show you ALL of the projects in one single place, and will also show you the completion percentages for each one of them. To potentially get ahead of issues before they occur, schedule this report on a daily basis for Direct Field Leaders or District Supervisors, District Managers, and anyone else who oversees a group of stores directly. 
 
Benchmarking Task Completion Rates
The best-case task completion rate is obviously is 100%. But, it's better to be realistic and obtain achievable rates. Here's what 'good' looks like:
Daily Projects:

>

80%

 

Company-wide average for tasks assigned on a daily basis


 

Weekly Projects:

>

90%


 

Monthly or Quarterly Projects

:

100%

 

Since employees have plenty of time to complete these projects,

 

you're going to want to see a 100% task completion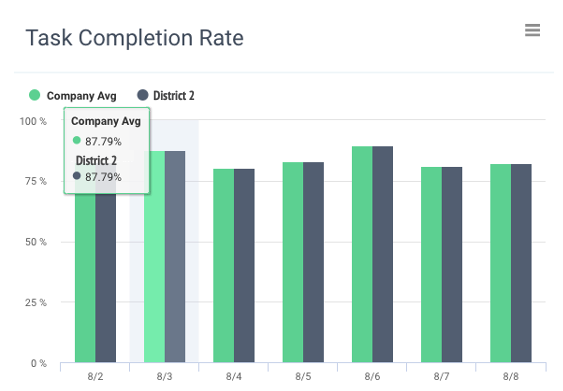 So what can you do if employees aren't doing the work? 
Here are 6 ways you can execute changes to improve task completion rates across your organization:
1. Identify the causes of low completion rates
Structural: Can you make some updates to your hierarchy or forms to help increase the task completion rates? 
Behavioral: Are employees "too busy" or not making it a priority? Can you stress the importance to them and lead by example?
2. Choose the solution that will work for your company/team
Some Zenput customers tie bonuses/compensation for their Managers or Field Leaders to Zenput KPIs, like task completion rates. Other customers consider missing tasks as a failure in job performance. Sometimes the Team Member/Shift Lead/Manager may even be written up for not completing tasks. The solution will depend on your company culture and goals.
3. Set reasonable due dates and expectations
Give consideration to the amount of time it takes to complete tasks and the number of tasks you are assigning each day/week/month. Make sure enough time is given to complete each task. Once the timeframe has expired for the completion of a task, the project can be archived and you will know exactly who completed the task and who did not, and can follow up appropriately.
4. Follow-up and make it a habit
Look at your task completion reporting and project recap reports. Are there repeat offenders? If so, you will want to follow up to make sure they understand the importance of completing their tasks on time. 
Zenput reports are a great tool to use for coaching. Your district or regional manager may want to reach out or stop by to make sure everyone knows how to properly use Zenput and to stress the importance of completing tasks on time and remind them of the repercussions of not doing so.
5. Store/Team competition
Sometimes a little healthy competition can help. If you have some locations/teams that are performing well, but others are not, you could consider sharing completion rates in team meetings or sending the Project Recap Report for ALL stores to ALL managers for full visibility and to encourage better performance.
6. Zenput is NOT optional
One of the biggest tips we can give is to make sure your users know that Zenput is not optional. It's an integral part of doing business and is an expected part of their job.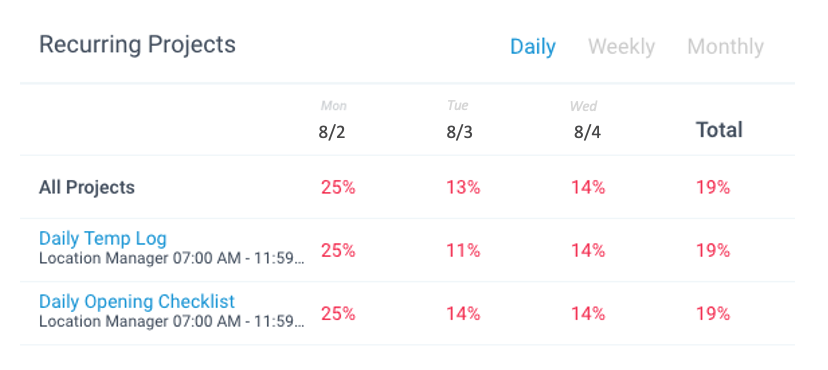 Improving compliance creates meaningful results
Being able to say that 100% of your stores completed their food safety check this week feels great, but more importantly, it drives meaningful results for each store and the entire operation as a whole. Here are just a few examples:
Improved Audit Scores

: When users complete the work assigned through Zenput, they tend to see improved audit scores. If your stores are completing the weekly store walks, pest walks, and bathroom checks, they are going to be in good shape come audit time.


 

Avoiding Food Safety Risks

: By completing the work at the right time, you can make sure that temperatures for food and equipment are set up properly, and therefore prevents customers from becoming ill as a result.


 

Measurable Promotions

: When signage, such as wobblers or window stickers, for sales promotions is put up and displayed correctly and on time, you boost sales on that promotion. 


 

Reinforced Habits

: Reinforcing routines for everyone, especially for new employees, helps staff get into the habit of knowing what work to do when, where, and how. (and why it's important).


 
You can view this session on-demand at www.zenput.com/opsx21 along with many other presentations on topics such as food safety, improving communication, field/store relationships, and more.