Building the framework to turn grocery strategy into action faster
As we all know, the disruption caused by COVID-19 has had an impact across industries. Among other challenges, the grocery industry has had to adjust to increased traffic, product shortages, constantly evolving local government restrictions, and both customers and employees wary of getting sick. Navigating these daily changes to operations, labor challenges and consumer fears have greatly impacted the grocery industry as a whole. 
To address these challenges, grocery operators must quickly develop new procedures and guidelines (ie. social distancing, sanitization, employee wellness checks, etc.)  to keep stores running smoothly and help ensure the safety of their customers and employees. 
In this blog series, we'll share the framework for agile operations execution. The three part series will dive into:
The optimized roll-out of strategies and initiatives

Ensuring compliance with these initiatives

Driving productivity across your entire workforce. 
Below we'll explore examples of various processes and how the use of technology allows for the agile roll-out, compliance, and productivity against each. 
How long has it taken your organization to roll out or update some of these common restaurant processes?
Shelf stock inventory audit 

Employee screening / wellness checks

Produce area inventory

Sanitization protocols 

Opening / Closing checklists

Endcap refresh

Product recalls

Exterior looks audit 

Launch curbside pickup or delivery service

DM compressed walk

Incident/injury/accident protocols

Floor inspections

Pest Walks
Optimized Roll Out of Procedures & Initiatives
The old world of rolling out changes over time is no longer an option. The world and thus the business landscape changes fast, operations leaders need to be able to change direction at moments notice and be confident that their stores are following closely behind.
If you need to launch a new sanitization procedure, roll out a new mode of operation (in store only to curbside pickup or delivery), get out updated hours so consumers are aware of adjusted times, etc, what does that process look like? How long does it take for you to send updates and materials to each store? How do you train them?  
Executing new procedures & initiatives at your stores starts with effectively communicating them out to every one of your stores and departments. For example, if you're implementing a new sanitization checklist, you need to make sure every store has the new checklist and is ready to implement it.
How do I build out policies and procedures and keep my teams updated on the latest information?
Zenput's fully customizable form builder lets you create and edit forms, checklists, audits, and more, and instantly make the most recent versions accessible to your teams.
Below, a VP of Operations is editing a daily Coronavirus sanitization checklist, making sure to include every important surface that needs to be cleaned in the store. Once the checklist is created, admins/management can immediately make it available to every store.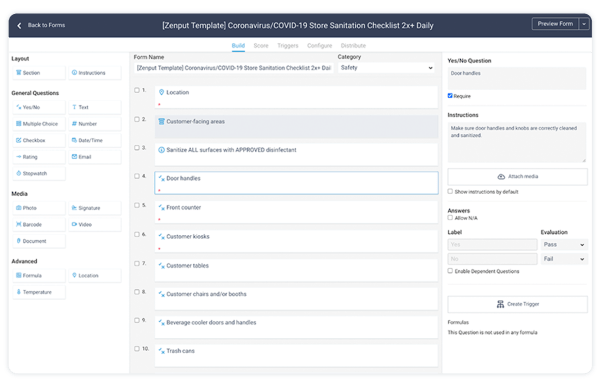 How do I quickly send out work to every team member who needs to complete it?
In Zenput, you can instantly assign work (either one-time or scheduled) to the specific users, departments, or locations that need to complete it.
Below, a Director of Operations sends out the new employee screening health checks to every store to make sure they're filled out for each employee between 8am and 9am before the start of their shift. This way, they can make sure that they're sending the right procedures to the right people.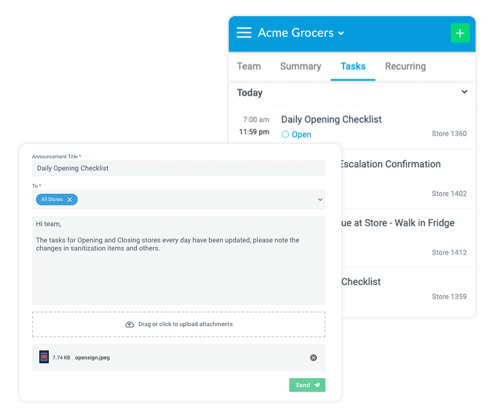 How do I communicate critical news, updates, and announcements with every store and get teams to take action on them when needed?
Send important announcements to every store (or select departments), which delivers a push notification to their mobile device and an announcement that appears in their notifications feed. 
Below, an announcement (left) sent to all employees from the VP of Operations introducing an updated process for opening and closing stores every day. On the right, a store GM's view of their daily tasks including the new updated opening checklist that was mentioned in the announcement.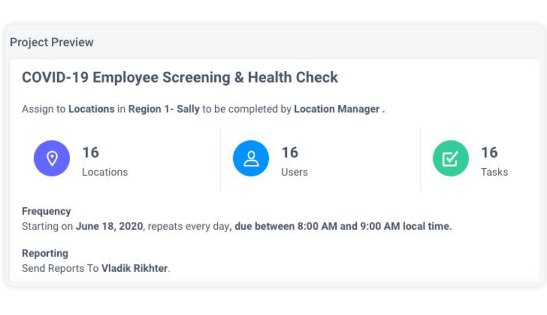 Operators are using Zenput's platform to not only launch critical coronavirus-related updates, but to also communicate and ensure execution of critical areas like brand standards, food safety, marketing promotions, and more.

Stay tuned for blog 2 and 3 in The Grocery Agility Series for a deep dive into ensuring compliance and driving productivity against all operating initiatives.