Today we're in the kitchen with Haroun Serang, our Senior Architect on the Engineering team! Read below to see what recipe he's sharing.
This is part of our Zenput employee cooking blog series
The Zenput team is full of talented and unique individuals, but there's one thing that many of us have in common: the ability to cook delicious food! As the quarantine and social distancing guidelines have started becoming the new normal, many of our team members have taken to the kitchen, sharing photos of their creations in our #fun-food channel on Slack. 
What's cooking? Any story behind the recipe?
Being the final act of a large-ish family, we all grew up eating what we were given. Thankfully our mother was a wonderful cook. My parents were from disparate backgrounds, my father from Bombay and mother of Swiss heritage. In addition to being a concert violinist, Mom created comfort in the kitchen with ease. In those years, Williamsport, Pennsylvania, was not a bastion of international culture. For example, the now ubiquitous cilantro required either a 6 hour round trip drive to Philadelphia for purchase or the foresight to grow it ourselves in the spring.
Despite the obvious challenges, the home was always fragrant with ginger, garlic, and many chiles. One of my earliest memories was sitting in my yellow high chair, my back sticking to its vinyl on a humid summer evening. The dishes tasted so good I couldn't stop eating despite the fire in my mouth and all over my face; aim was not my strongest suit.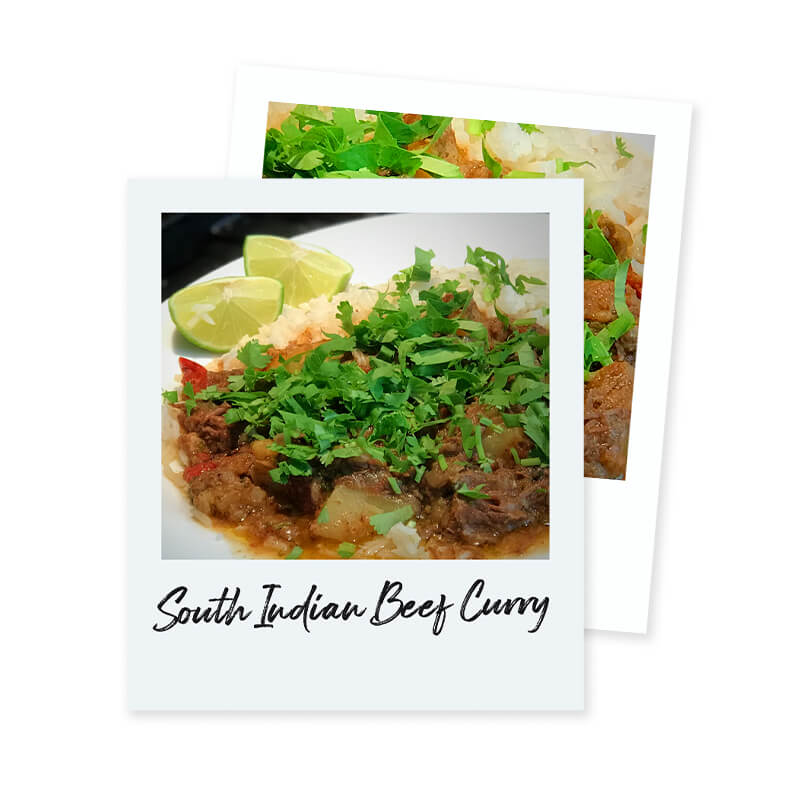 Mom taught me how to cook and still shares esoteric recipes with me. Unlike the food enjoyed in restaurants, my family's cuisine originates from Kerala, with lots of fresh spices and nuclear chiles. The recipe I'm sharing is a South Indian Beef Curry which should be easy and not require a large stock of spices. It closely relates to the cuisines of Thailand and even Mexico (as well as many others).
Has the quarantine changed your cooking habits at all? (I.e. do you cook more often/less often?)
Sadly, as I am working from home, work and home boundaries have become a blur, one which struggles to find balance. My partner in crime Cherie, on the other hand, has stepped up her kitchen game with a vengeance. Meal planning, finishing leftovers, etc. are now better than ever. And given the attention to food, we enjoy a wide variety of cuisines.
What is one of your favorite cooking tips/tricks/secrets you'd like to leave us with?
I don't believe in tricks, just tried and true techniques. Skip gadgets and learn to use a chef's knife well. Take the time to learn how to cut an onion and garlic. Make your cuts consistent that the textures and flavors delight. It's hard to evenly brown diced onion if each piece is a disparate size and shape. Keep your tools sharp!
South Indian Beef Curry (quick and easy - Instant Pot)

:
Ingredients:
2 + lbs beef stew meat. 

2-3 medium yellow onions, cut in half, then evenly sliced fine (⅛")

4 cloves garlic, peeled

2 inches fresh ginger, peeled and chopped

1 bunch cilantro aka coriander chopped

5 - 10 fresh mint leaves chopped

5 + serrano chiles (can substitute jalapenos, cayenne or Thai (10+) chiles. If you want it authentic, the fam would use over 20 Thai chiles.

2-3 potatoes peeled, 1" cubes

2-3 tomatoes (roma work well here) diced

1 Quart unflavored yogurt (full fat tastes better, Strauss brand has great texture)

2 tsp ground cumin (best results is whole cumin, freshly ground)

1 tsp ground cayenne pepper (or more to taste! Who needs to feel their face?)

Salt, preferably kosher, but use what you have

2-3 whole green or white cardamom pods

5 whole clove

10 whole black peppercorns

Roughly 1.5 inches cinnamon stick
Steps:
Rinse and pat dry the stew meat. Trim if needed and put in a large bowl, gently salting all sides. Set aside

Separate and put aside 2 chiles, 5 sprigs of cilantro and some mint.

Blend the garlic, ginger, remaining chiles (chopped), cilantro and mint, to a paste. Start with the ginger and garlic, adding some yogurt to help liquify, then gradually add remaining items. Chopping these items helps them blend, especially the ginger. Just keep adding yogurt and pulsing until liquified. (You can chop all this fine with a chef's knife if you desire)

Add ground cumin and cayenne to your nuclear green blended nectar! Give it a quick blend to mix

Add the liquified spices to the meat and stir. Add more yogurt to the meat until coated and almost covered. Let sit for an hour or more - you can do all this ahead of time and let sit in the fridge for a day

Set your instant pot to saute. When hot, add 3 tbsp oil, whole peppercorns, whole cinnamon stick, whole cloves, and whole cardamom. Gently stir until it starts to pop.

Add all the sliced onion to the spiced oil. Stir until evenly light brown (5-10 mins)

Carefully add the meat and marinade and saute 5+ minutes, reducing the sauce a bit. If you want to be fancy, first brown the meat, then add the rest of the marinade, as well as the two extra chiles.

Add roughly 1 cup water (use your best judgment here - you can always reduce the final result), and pressure cook on high for 20 mins. (CHEAT CODE: If you're in a hurry and don't care about the potatoes and tomatoes being perfect, throw them in here)

Carefully release the pressure 

If you didn't use the shortcut above, add the potato. If there's not enough liquid to cook the potatoes, add a little water. 

When potatoes are fork tender, add tomato until the tomatoes fall apart. 

Taste test and nudge salt if needed

Garnish with remaining chopped cilantro and some chopped mint leaves and serve

Enjoy with rice or roti/naan. If you're going low carb, cauliflower "rice" is alright.
Serve for breakfast the following day with fried egg, or make burritos out of it!
Note: If you don't have an Instant Pot, of course a pressure cooker works just as well. If you don't have a pressure cooker, you'll have to simmer the meat for hours until tender.