Let's see what Nick Hokanson, one of our Customer Success Managers, is cooking today. Read the interview below. 
This is part of our Zenput employee cooking blog series.
The Zenput team is full of talented and unique individuals, but there's one thing that many of us have in common: the ability to cook delicious food! As the quarantine and social distancing guidelines have started becoming the new normal, many of our team members have taken to the kitchen, sharing photos of their creations in our #fun-food channel on Slack. 
What's cooking? Any story behind the recipe?
The recipe I'm sharing is red beans and rice. I lived in Taiwan for 7 years and for 5 of those years I hosted Christmas at my place. Most of the homes in Taiwan did not have ovens or traditional cooking appliances that would typically be used in the States to make a traditional Christmas dinner like turkey, duck, etc, so we had to think of meals that we could cook on the stove. All of my friends had to work on Christmas Day, but I did not and since I knew this dish could feed a lot of people, it became a special Christmas tradition amongst my friends. Now the recipe holds a special place in my heart because of all the memories it brings.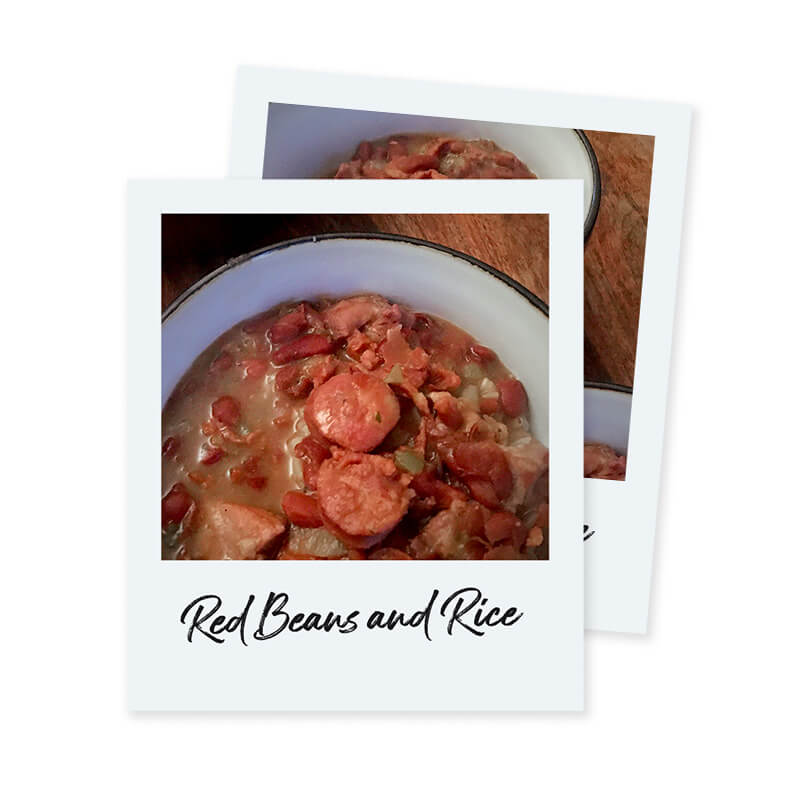 Has the quarantine changed your cooking habits at all? (I.e. do you cook more often/less often?)
I cooked a lot before the quarantine happened, but I think lately I've become more intentional with my choice in meals. I've been able to plan out what meals I want to cook during the week and create a grocery list so I can limit the number of times I have to go to the grocery store.
I've also been able to cook more meals that take a longer time to make, which has been a nice change of pace. I really enjoy cooking and now that I don't have to commute to and from work anymore, I can just stop working at 5pm and then start cooking at 5:05pm, whereas before I would get home later and then wouldn't want to cook a meal that took 3 hours to make during the week - it would mostly be one pot wonders or things that took 30 minutes or less to make.
What is one of your favorite cooking tips/tricks/secrets you'd like to leave us with?
Use more butter and more salt than you think is appropriate - it will make your dish taste very very good! Besides that, I am very against cooking utensils that only have one purpose - get something that will have many uses in the kitchen. To that point, I also think you should buy something good once - meaning spend a little more money to buy something that will last a long time versus something cheap that will break and you'll have to buy again.
Red Beans and Rice:
Ingredients:
3 cans of red kidney beans

1 Vidalia onion, diced

1-2 green bell peppers, diced

3 cloves minced garlic

½ pound andouille sausage

4-5 slices of smoked bacon

So much Old Bay seasoning or creole seasoning

Tsp cayenne

1 ½ tsp dried thyme

2 bay leaves

2-ish quarts Chicken stock

Salt & pepper as needed

2 cups of white rice (I prefer Jasmine rice)
Steps:
Slice the bacon into inch long pieces; then on low heat in a large heavy stockpot, render the fat out. When the bacon is nice & crispy, remove the bacon pieces and leave the bacon fat. Don't eat all the bacon bits, we'll need those later. 

Add the diced onions and green bell peppers and sweat them until they're soft and translucent. Then mix in the garlic, Old Bay/Creole seasoning, thyme, cayenne. 

Add the sliced andouille sausage & the bacon and let all the ingredients mingle for a minute or two, stirring regularly. 

Add the three cans of red kidney beans, making sure to drain some (but not all) of the canning liquid before adding to the pot. Add the bay leaves and cover the whole mixture with chicken stock. Bring to a boil. 

Once the mixture is boiling, reduce to a simmer. Let simmer for 1 ½ - 2 hours occasionally using the side of a large wooden spoon to smash some of the beans on the side of the pot. You should aim to smash ⅓ - ½  of the beans to help thicken the mixture.  Taste for seasoning and add more Creole seasoning, salt or pepper, keeping in mind that the flavors will intensify as the mixture reduces. 

Once the red bean mixture is reduced by 25-30% and thickened to your liking, cook the rice using your preferred method. Make sure to rinse the rice thoroughly before cooking to remove the excess starch. 

To plate, add a scoop of rice to a bowl and cover with red beans. Optionally, serve with warm crusty bread. Not optionally, enjoy.