In the late '90s, you might have found yourself singing along to "Mo' Money, Mo' Problems" by The Notorious B.I.G. Fast forward to today, as a multi-unit operator, perhaps now you're singing it the tune of: Mo' Locations, Mo' Problems. While most multi-unit brands and franchisees look at location growth as a key performance and success indicator, there is often an unfortunate reverse correlation between the number of store locations and operations leaders' confidence level that stores are operating the way they should be.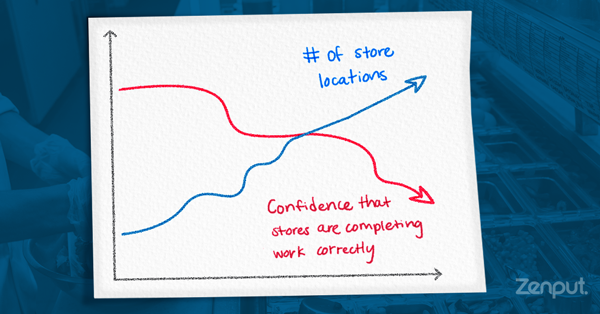 Recent research by Technomic and Zenput found that, on average, daily operational and safety tasks in restaurants, supermarkets, and convenience stores take anywhere from 11-14 minutes each to complete. Some tasks, such as cleaning and sanitizing, are performed multiple times over the course of a regular workday, amounting to seven to nine+ hours a day to complete. 
That's a significant chunk of time. Yet, despite this, fewer than half of operators are very confident that these tasks are actually being executed correctly or on time. Many operators in the survey also reported that it would be challenging to execute upcoming changes and initiatives as they roll them out across all stores. 
"We have over 4,000 locations and several hundred franchisees that all run their stores a little differently. It is hard to get all to comply and execute as well as we would hope." - Survey Respondent
Sound familiar?

Operators lack confidence that critical tasks are executed correctly/on-time across locations
Ensuring safe, smooth, and efficient operations across every single location has always been a priority for multi-unit operators. According to the same research above, operators are least confident in manager walkthroughs, text/communication logs, par sheets, and completing production sheets. For important tasks like this, if operators are anything less than "very confident" about work being done correctly or in a timely fashion, it raises concerns about how well guests are served or to what extent safety expectations are met.
"[I'm least confident in] communicating and making employees understand the frequent changing objectives and work plans due to the current scenarios." - Survey Respondent
Another major challenge for ops leaders is figuring out how to effectively oversee and support multiple locations without being physically present. Of course, gaining and maintaining visibility becomes increasingly challenging with brand expansion. Making sure every employee is up-to-date on the latest corporate initiatives can be quite difficult, especially across dozens, hundreds, or thousands of locations. Whether you're planning to roll out 10 or 100 new locations, visibility is key for critical insights into what works and where there's room for improvement.

"With a large franchise like ours, we have to go into each store and verify all is correct. Over 100 stores take a while and this is assuming there are no mistakes made."
- Survey Respondent
Paper-based processes are still prevalent
The ability to operate a food service brand across multiple locations requires processes and tools that can keep up with consumer and food safety demands. Between 1/3 and half of operators still use paper checklists, presenting a big opportunity to improve operational confidence and efficiency. The continued use of paper checklists to track this work may inhibit leadership teams' ability to ensure that work is being done right at every store. But at the end of the day, no matter how a task is completed and tracked, ops leaders need to have confidence that work is being done correctly and on time in every location, every day.
Using technology to oversee stores from anywhere
Technology allows ops leaders to stay more connected to their stores, enforce compliance, see photos, and more, all of which help increase confidence. Even when they're not on-site, field teams can oversee store performance and perform audits more efficiently, giving them time back to spend on employee coaching and training. Because field managers can't physically be everywhere at once, field teams get instant visibility into where the biggest issues are surfacing so they can funnel resources and attention to the locations that need it most. As you can imagine, the stores that are executing daily standards at a lower rate also tend to be understaffed or higher volume and benefit the most from a field leader's support on any given day.

Agility through automation
Embracing technology can play a major role in scaling your business and running a more agile operation. Innovative tech solutions can enable field teams to cover more ground and manage an increasing number of locations, with confidence. Deploying a tech platform can help reduce costs, increase customer satisfaction, enhance your brand, and ultimately spur long-term, scalable growth. Manual systems will never be able to provide you with the visibility you need to gain critical insights, and increase confidence, across locations. 
"Automation can solve most of these problems and allow the owner to free up time for business expansion." - Survey Respondent
Scaling your operation with confidence 
Running, and growing, a multi-unit operation is tough – but regardless of the inevitable operational challenges that loom ahead, restaurant operators must stay diligent in maintaining quality execution across hundreds of locations to stay competitive and scale for future success. The savviest operators look at every aspect of critical work like food quality, sanitization, audits, and more, that make operations successful–and wonder how each one, big or small, can be done better or faster. Without the right strategies and systems in place, dreams of expansion fade away, or quality suffers in older stores as attention is redirected to newer ones.

For a deeper dive into the many ways multi-unit operators leverage Zenput to elevate team execution and achieve scalability—and to learn how you can do the same—download the Zenput Guide to Agile Operations Execution today.