Multi-unit operators regularly deploy operational changes that must be adopted in every store – from launching delivery or curbside pickup service or requiring daily employee screenings before each shift — changes like this are now being rolled out even more frequently in response to the coronavirus pandemic. To do this successfully, operators must be able to share updates and information as quickly as possible with every location and be confident that their teams will take action on it.
Internal communication tools such as email, phone calls, text messages, WhatsApp, Slack, and others are critical for many of the conversations that happen day to day, but are disconnected from where work is actually being done. The uncomfortable question that operators are often left with, is how do you ensure that critical news, updates, and other communications are seen and understood by employees in every store?
Introducing "Announcements" in Zenput
Now in Zenput, multi-unit operators have the ability to send important announcements to every store (or select teams), which delivers a push notification to their mobile device and an announcement that appears in their notifications feed in Zenput. The benefit of sending announcements like this through Zenput are 1) it gives operators the ability to highlight certain communications as important announcements – distinct from other types of comms and conversation and 2) announcements are read and received in the platform where employees are already completing and tracking work every day.
For example, an operator launching a new employee screening process can share an announcement about it in Zenput to all of its stores, and point them to the new employee screening form in Zenput as well as highlight the new daily task that has been assigned to them.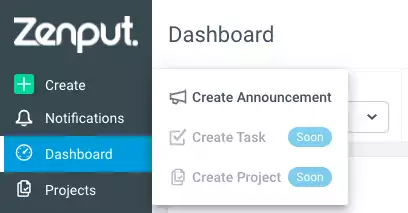 Below, the store manager sees their list of tasks that need to be completed by today. The Director of Ops not only sent out an announcement about the new employee screening process (above), but also created a new daily task for each manager to complete – to submit the employee screening forms every day.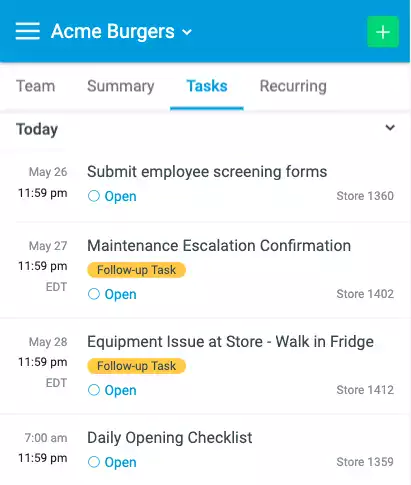 Zenput customers that had early access to Announcements found multiple ways to take advantage of the new feature to keep their teams informed of important news; one burger chain shared news of a new recurring sanitization task for every store much like the example shared above, a national convenience store chain highlighted changes that would be taking place just ahead of memorial day weekend and to look out for new forms that were available to managers, while another customer offered an important reminder about safe and sanitary behaviors to practice in store.
Making operations more agile
Multi-unit operators are deploying new processes and procedures at a more rapid clip than ever before, and the success or failure of introducing such change is completely dependent on each store's ability to take action on it. Operations leaders, field managers, store managers and other employees use Zenput every day to do great work in every store, and give managers visibility into the work being done. Now with the ability to send announcements to every store, operations leaders have yet another way to ensure that important updates are seen and acted on quickly.