In our previous posts in this series, we touched on the factors that are driving restaurant, convenience store, and grocery chain operators to prioritize initiatives that take their rigor around operations execution in every location to the next level, and then defined how technology is playing a role. Let's turn to the specific outcomes that leading operators that are investing in these initiatives and enabling technologies are looking to achieve, and how your organization might approach building the internal business case to justify the investment.
Operators generally have one or more of the following aims in mind:   
Making employees across the organization more productive

Increasing the consistency and quality of work happening across locations

Improving the visibility you have into execution and performance across the operation 

Creating more consistent customer experiences and growing revenue
Let's dig into how you might put some specific success metrics against these outcomes.
Increasing Productivity  
To scope the potential impact of an operations execution (OpsX) platform on your organization, explore productivity improvements in two key areas:
Individual roles on your team

. From each vantage point in the organization, identify role-specific opportunities to use time more efficiently. I've included a graphic below with some examples by role. 

Key tasks and processes

. How does the shift away from manual processes yield time savings that can be applied to higher value activities? For example, map out process efficiency gains in your audit management or incident response processes.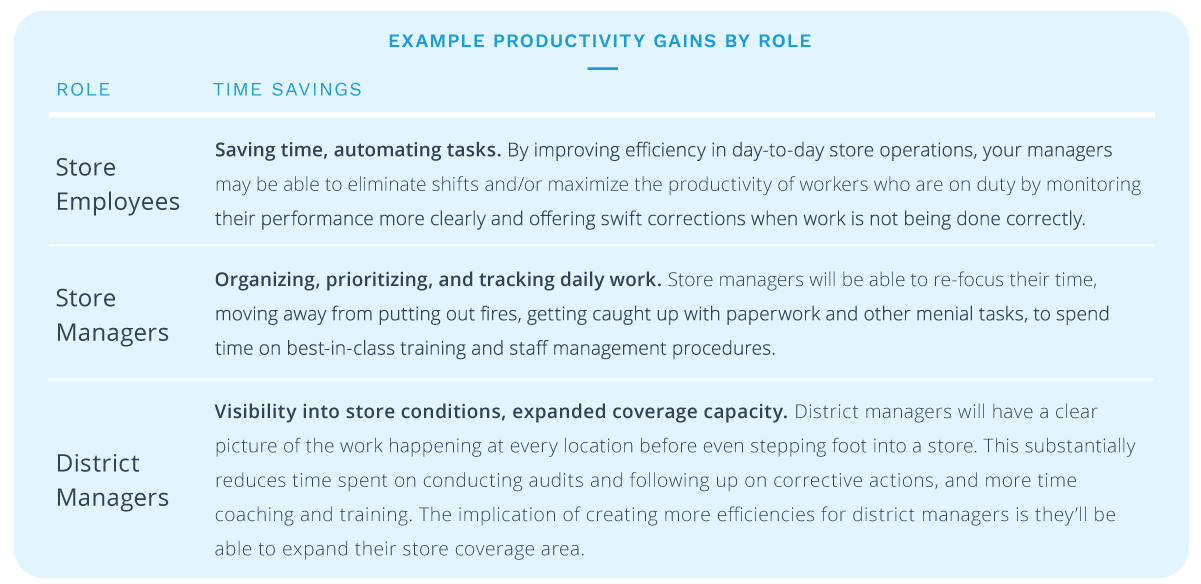 Improved Quality of Execution
There are a range of quality-focused KPIs you can look to monitor and track improvements against when you deploy an OpsX platform:
Audit scores and brand standards

. Internal and third-party audits help operations leaders understand where a store stacks up in terms of brand standards and quality. Consider what even a 5% or 10% increase in average audit scores would mean for your operation.

Health inspection scores

. A health inspection violation can negatively impact business and brand reputation. How would scores improve if you gave store managers the tools to ensure proper compliance with all health and safety codes prior to inspection?

Foodborne illness outbreak costs and brand image

. More consistent compliance against food safety procedures should greatly alleviate the risk of such an incident occurring. If you can prevent one incident per store each year, what kind of cost savings (or mitigated risk of lost revenue) could this generate?

Online reputation scores

. Negative reviews due to quality or customer service complaints can send sales plummeting. By improving your operations execution to ensure higher, more consistent quality at your stores or restaurants, you should see the average star rating go up. In turn, that will likely result in an increase in sales.

Customer satisfaction survey scores

. Have you begun using survey tools to measure customer experiences? If so, you'll have a good benchmark to measure whether changes in your ops execution has improved the customer experience at your stores.
Gaining Visibility
Building a best-in-class operations execution strategy can provide far greater visibility into all of your metrics across stores, relating to both the efficiency and qualitative benchmarks that we've just reviewed. But how do we weigh the value of this enhanced visibility itself? 
Here are a few ways to look at it:
Identifying trends and common issues across locations

. With a solution that helps you gather and make sense of data, you can immediately identify trends and address wide-spread problems earlier. For instance, if analysis of your audits shows that cashiers aren't greeting or offering upsells correctly to customers, you can make sure to focus on this as a training opportunity.

Realtime HACCP temperature log visibility

. Your operations execution platform should provide integrations with smart technology, providing instant readings and temp logs in real time, and enabling staff to receive alerts and take action immediately if temperatures go out of range, heading off potentially major issues.

Employee and store recognition

. If you have better visibility into which team members are going above and beyond, you can incentivize and reward them. Store managers will have the insights to help them recognize staff for "Employee of the Month" programs and other perks, and corporate leaders can spot which store managers and field managers are performing at the top of their game, and involve them in leadership training.
Increasing Revenue
As your team begins drilling into the specific "ways" an OpsX initiative will make an impact, you'll find that making people more productive (in your stores, in the field, and at the home office), enabling them to do their jobs well, and getting better visibility into the actual work that's happening across the operation directly impacts your ability to create great customer experiences and grow revenue.
As you chart your own path to take your organization's operations execution rigor to the next level, here's free access to the Buyer's Guide to Operations Execution Software, a resource for identifying the right solution for rolling out systems-wide initiatives and ensuring quality execution.