As operations leaders plan for 2021, most are prioritizing investments in initiatives that will drive a step function increase in operations execution: improved productivity, organizational agility, and controls across their organizations. In our last post in this series, we took a deep dive into the factors that have restaurant chains, convenience stores, groceries, and other distributed retailers feeling they can no longer wait to make improvements in these areas, which has also meant new investments in operations execution technology.
But, what does an operations execution technology solution or platform look like?  
The great news for operators is that there has been a proliferation of available solutions addressing one or more of a range of operations execution (OpsX) issues from store productivity and compliance, to field audits and corrective action tracking, to operations intelligence and communications.  
The not so great news is that there has been a proliferation of solutions! So where is an operator to start? Well, it's helpful to draw some lines around the OpsX platform "box". In other words, let's dig into what is and isn't in the "box" that makes up a comprehensive operations execution solution. 
For starters, an Operations Execution Platform

is NOT.

..
Overlapping with more traditional tools geared to help with scheduling, inventory, labor management, and training.

Intended for a limited set of employees.  It should not be just an audit tool for field teams, or just a digital checklist for store employees, or just a task assignment tool for the ops team.

Geared to a specific department.  It's not intended to solve a singular problem (e.g., not just for food safety).

Just a replication of what you're doing today. These systems need to help you aim higher than just digitizing your paper checklists, although they should do that too.
So what should you and your team expect out of an operations execution platform? Here are a few important attributes to consider: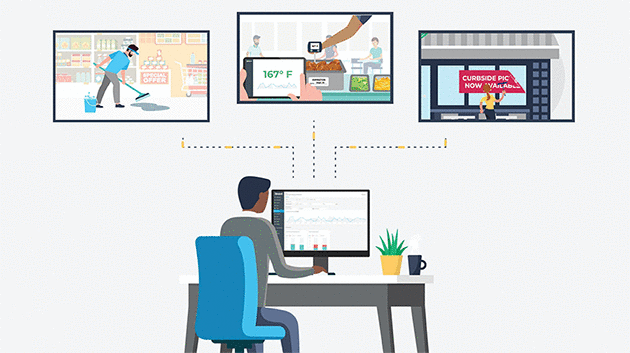 Purpose-built for multi-unit operators  
These systems are designed specifically to manage the complexities and overall execution of work in one central place, supporting multiple teams and functions within your organizations from junior staff to senior leadership, and from headquarters to field teams to store employees.  
Designed to improve productivity 
An OpsX solution should enable work to get done both more consistently and faster, saving everyone time at every level across the business. A key way these systems create efficiencies is through automation of processes and speeding the flow of information.
Create shared accountability, and improved morale
In often chaotic work environments, these systems help teams better structure the work they need to get done, reminding every employee when a task needs to be performed. This holds managers and the leadership team accountable for making sure everyone knows what they need to do, and when they need to do it—while making employees accountable by tracking if what needs to get done is actually getting done well.  
Provides visibility needed to make better decisions, at HQ and in the field 
An OpsX solution captures real time data representing work happening now (vs. 3 months ago) and trending so you can identify issues and opportunities to enable the team to perform better and help the business grow.  
To accomplish this, these systems need to provide:
Role-relevant reports to prevent everyone from being inundated with irrelevant information

Real time tracking of work so field teams and the home office can see, at any moment, progress against a given initiative or process, and

Both quantitative and qualitative metrics. A number of simple tools can show you how many times a process or form was completed but what moves the needle is being able to quickly hone in on areas of opportunity where you are struggling and succeeding.  For example, one of your store managers may complete a manager walk through every day—that's good. But, 90% of the time, that manager flags an issue with bathroom cleanliness. That's the insight that needs attention and rectification.  
Meets you where you are now—and where you're aiming to be in the future
An OpsX solution is not a niche solution that you'll quickly outgrow as the complexity of your business grows. It needs to have sufficient range of functionality and flexibility to be able to scale with your business. This may come in the form of configurability (e.g., will the process flows I have in place for 50 locations today break down as I approach 100 stores?) or hierarchy management, designed with inherent access controls so that different levels and roles throughout the organization can access only the data that he or she needs.  
Stay tuned for our next post in this series where we'll drill down further into the range of capabilities you should expect an operations execution platform to support.  In the meantime, here's free access to a Buyer's Guide to help you on your journey to identifying the right solution for your organization. 
Image