To help spread awareness for National Food Safety Education Month, we're spotlighting each of our four pillars of food safety execution throughout September. This post focuses on Pillar #3: Proper Food Preparation.
Your staff is responsible for ensuring that every meal prepared at your establishment is a safe meal. Whether cooking and serving complex recipes in-house or simply heating and packaging prepared items to-go, employees are the last line of defense between customers and foodborne illness, especially during the food preparation process. According to Food Safety News, consumer trust in the industry's ability to meet food safety expectations is fairly low. Consumers who feel confident in the safety of your food products will undoubtedly choose your business over others.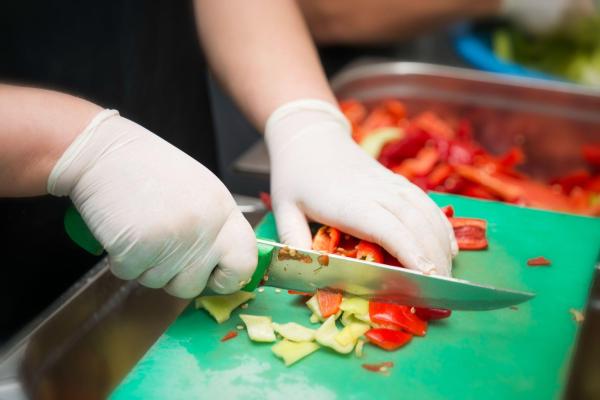 Any employee who cooks, serves, or packages food must follow these seven safe handling practices: 
Wash hands with soap and warm water for a full 20 seconds before and after handling food 

Separate raw meat, poultry, and seafood from other foods to prevent cross-contamination

Wear gloves when handling both raw and ready-to-eat foods and change gloves whenever handling a new ingredient

Cook food to the right temperature using a food thermometer to verify

Hold heated food at 140°F and monitor the temperature regularly

Cool hot food properly, from 140°F to 70°F within 2 hours, and completely cool to 41°F or below within 4 hours 

Reheat previously cooked food to 165°F or higher before serving
Digitizing your food safety processes can simplify your approach while improving the quality of your food safety measures. Food prep labeling is a critical aspect of food safety. Still, when done manually, it can consume a ton of valuable staff time and risk costly downstream mistakes (e.g., mislabeled products, incorrect expiration dates). 
Operators use Zenput Labels to automate critical steps in the food labeling process, including product identification, calculation of expiration dates, and more. Store employees simply select from a predefined list of products and ingredients available on a mobile app to quickly and easily print food prep labels. Zenput automatically calculates expiration dates based on the product selection and the current date and time. All told, automated food labeling shaves as much as 30 minutes off food prep time and reduces the likelihood of preparing and serving past-date products to customers.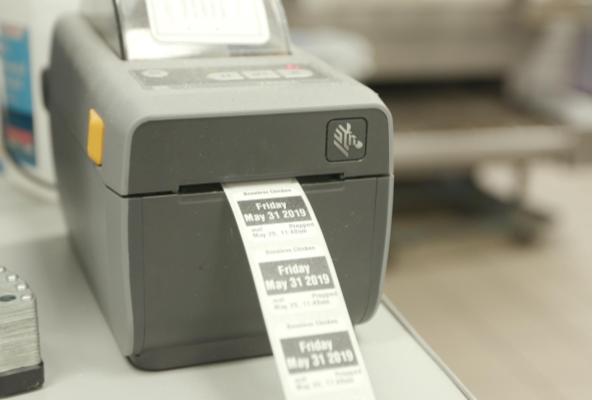 3 Modern Approaches for Safer Food Preparation
Here's how you can use technology to empower your teams to consistently communicate, execute, and improve operations to ensure proper food preparation in every store: 
1. Communicate more effectively with photos and reminders
You undoubtedly train new staff members on the proper way to do things at the store. But the more you can do to remind staff what success looks like, the better. Educate and create accountability for your team regarding safe food temperatures, avoiding cross-contamination, and properly labeling foods — use photos and in-app tips to remind employees what a successfully completed task looks like (e.g., properly separated meats to avoid cross-contamination)
 
2. Automatically calculate and print food expiration dates
Remind store teams to regularly log temperatures to ensure proper food holding temperatures — Ensure labeling accuracy by equipping store employees with tools that automatically calculate expiration dates
 
3. Use data to identify your at-risk stores sooner
Most stores have good intentions, they want to follow the right food safety protocols. But inevitably, some stores will just have a harder time following through on them and will require attention and coaching. The key is to identify potential risks like unsafe temperatures before they impact customers. With the right technology, you can 1) set up alerts if holding temperatures go out of range, and 2) look at the data for your food safety assessments or other reports, and quickly find which stores have more inconsistencies or failures than others.
 
Properly labeling food is crucial to keeping your inventory organized and ensuring that the meals you prepare are safe. It's also an FDA requirement. And while most multi-unit food service businesses have food labeling systems in place, they often have difficulty enforcing policies across locations—stores and restaurants that rely on paper-based systems or outdated legacy software struggle the most. While food prep safety practices vary from business to business, it's universally understood that any perishable ingredient requires a label specifying what it is and when it expires.
 
Digitizing your food prep monitoring system will help to minimize risks and consistently maintain high food safety standards. Track all of your food safety processes in one central hub and cut down on food waste (and costly errors) by eliminating paper-based systems while strengthening consumer confidence in your brand. Multi-unit operators use food prep labeling technology to improve food safety and save employees time – hundreds of labels can be printed in minutes, with cloud-based ingredient lists, automatically calculated expiration dates, and more. Download The Operator's Guide to Food Safety Execution to learn more about each critical step of executing strong food safety practices in all of your stores.