The start of the summer season is always a time for celebration. Fresh Veggies Day—on June 16—will be no different, as stores nationwide celebrating all things produce with an array of colorful and tasty seasonal vegetables ripe for the picking.
While this unique holiday might not be marked on everyone's calendar, for grocery store operators it's another opportunity to ensure a safe and pleasant customer experience. 
As customers become increasingly aware of food safety and consumer hygiene, grocery store operators must consistently reevaluate their processes and procedures. Aside from shelves with perfectly arranged produce and impossible-to-open plastic bags, it's critical for stores to ensure their food safety protocols are on point—today and every day.
Fresh Veggies Day: Celebrating Seasonal Produce Requires Quality Food Safety Standards
Ensuring that fresh produce meets food safety standards can prove challenging for grocery store operators. Not only do operators face new health and hygiene realities as a result of the global pandemic, but frequent supply chain disruptions, transport setbacks, storage complications, and ever-evolving government guidelines and restrictions have made it even more complex.
Grocery store operations teams are constantly required to ensure fresh produce is organized, supply is on-point, and damaged items have been removed or repurposed. To ensure that incoming fresh produce is safe for sale and suitable for processing into fresh-cut products, the US Food and Drug Administration (FDA) recommends the following best practices:
Operators and employees should be familiar with the procedures used by suppliers, including growers, packers, transport, and coolers.

Verify supplier food safety practices. This can be by letter of certification or guarantee from a supplier or official industry department.

Use food protection practices to prevent contamination of produce as well as contact surfaces, equipment, and utensils.

Employees should:
Maintain adequate personal hygiene

Wash and sanitize their hands frequently, especially before beginning work and after engaging in any activity that may contaminate their hands, including touching their face, garbage, and chemicals

Change disposable gloves whenever contamination is a possibility

Wear appropriate attire on the job including hairnets, aprons, and appropriate footwear

Not engage in eating or using tobacco in any area where food is handled or processed


 
The FDA recommends specific hygiene practices to ensure fresh produce is safe for sale and suitable for processing.
Today's business climate requires deploying new initiatives and strategies quickly and ensuring that every outlet is compliant. Doing this effectively across all locations can be demanding, especially as a new season of produce is celebrated and plentiful new stock is distributed. Customer and employee safety should be at the forefront of every store's daily operations.
With a digital food safety management system in place, stocking and adhering to health protocols is simplified throughout the entire process. Not only does this eliminate paper checks for stock records and employee training logs, but it also makes it easy to audit stores remotely.
How to Effortlessly Maximize and Automate Food Safety in Every Store 
Whether managing quality, compliance, and safety for one or multiple store locations, using manual processes is time-consuming, prone to errors, and complicates unified location-wide rollouts. When responding reactively to issues as they happen, it becomes difficult for operators to be strategic. Adopting a more proactive approach saves time, money, and ultimately, reputation.
Manual systems lack the visibility needed to gain critical insights for effective decision-making. Digital quality management systems offer immediate visibility into all store operations. Tech tools and platforms collate data from all sources, including audits, assessments, and checklists, to track critical information from all locations. This provides a real-time accurate view of food safety and operational standard compliance.
As a new season of fresh produce hits the market, grocery store operators can implement the following digital processes to maximize efficiency and minimize unnecessary loss and expenses.
Digital Checklists and Audits
Integrating digital tracking allows grocery store operators to automate food safety practices in every location ensuring that (a) fresh food is handled properly to avoid costly mistakes, and (b) expired produce is removed at the appropriate time.
Digital checklists ensure the uniform execution of interior and exterior cleaning, stock management, food preparation, and other operational procedures throughout multiple store locations.
Food safety solutions enable automated alerts for unhygienic facilities, food safety red flags, and maintenance issues. With mobile food safety technology, operational information is gathered quickly, accessed, and processed at store and field-level. Communication is automated and instantly relayed to the appropriate team for immediate problem resolution.
Digital Temperature Checks
Temperature monitoring during storage, preparation, and service is critical to ensuring food safety. Manual temperature monitoring is inaccurate, time-consuming, and unreliable.
Automated temperature monitoring solutions constantly monitor temperatures of freezers, refrigerators, makelines, and more and alert staff or managers when temperatures become too high or too low. By automating this process, grocery store operators prevent unhygienic work and shopping conditions; protect customers from foodborne illness; improve employee time management by eliminating manual processes; and ensure internal and government safety standard compliance.
Online Task Tracking and Data Management
Deploying a cloud-based digital platform means operators are granted visibility into food safety tracking and tasks, enabling immediate insights into store-specific hygiene and safety trends. This helps to flag at-risk locations, as well as identify and prioritize opportunities for improvement. Local, regional, and top-level managers can access real-time data about the amount of fresh produce that is discarded daily as well as monitor compliance with safety protocols. This significantly improves the optimization of stock control, ordering quantity, and display solutions.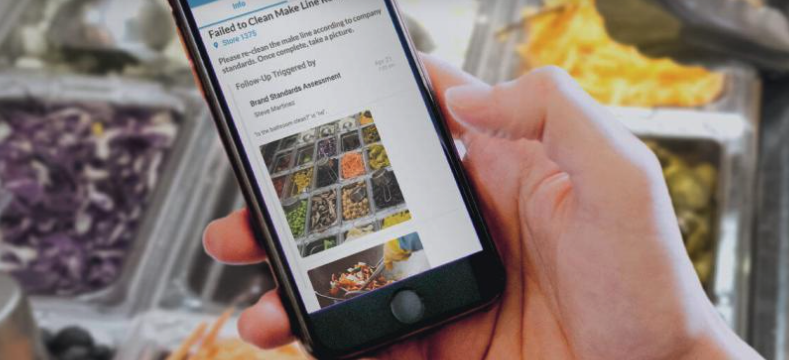 Protect Customers, Employees, and Your Brand
Being able to respond quickly to hygiene and safety issues affects customer satisfaction: patrons take notice of clean facilities, good food, and smooth business processes. These short-term gains translate into long-term success by enhancing brand standards and proficiency and scaling up accountability which ultimately affects your bottom line.
Register for a Zenput demo today to learn how Zenput can elevate your business's overall food safety operations and provide your customers with a safe and superior experience on Fresh Veggie Day and all year-round.