It's no surprise that COVID has hit the entire world differently - it has left many operators forced to adapt quickly to changing local conditions and regulations. Delivery and contactless food delivery has become the new norm around the world. But despite the pandemic, one sector in the restaurant industry is doing perhaps better than ever: pizza. Because delivery has been a critical aspect of the pizza business for years, the infrastructure and operator experience has proven critical to succeed during the pandemic.
In this blog, we spoke with Kellie Taylor, the country head for Domino's Pizza in Denmark. Previously, Kellie worked for Domino's Pizza Enterprises before taking over the Denmark market. While they may be new to Denmark, they aren't new to pizza. They have been serving pizza for the last 20 years. Kellie oversees 13 locations in Denmark. When her team took over the market, all of their locations were closed. They started from zero stores to re-opening 13 stores in about 13 months. And despite the coronavirus pandemic, they have been experiencing major success!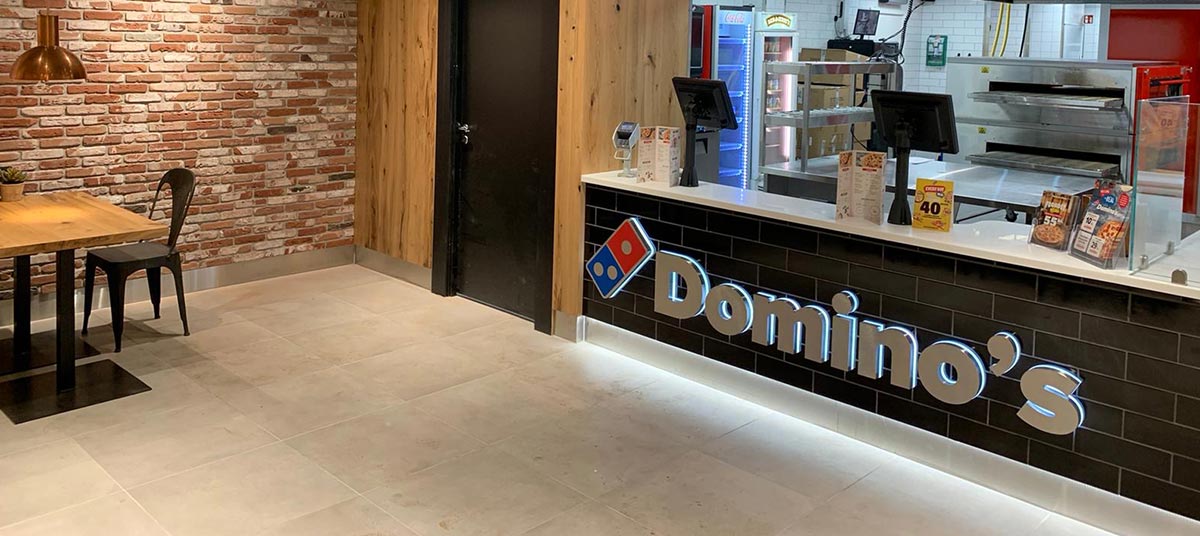 Here is part of our interview with Kellie:
Q: 

What have been some of the biggest challenges your organization has faced in today's environment?
A: We've been very lucky that we sell and deliver food, which everybody has to eat, so we're very lucky that with people locked at home, we have been given the privilege of being able to trade or continue to trade. And we do really see that as a privilege. And so probably the biggest challenges that we've had is we have to continue to run our business in a changing environment. So we have to be able to deliver our product to customers in a way that keeps our team and the customers safe. And that's probably been our biggest challenge. We're pretty lucky in this country that we have a pretty small so team. So we were able to communicate one-on-one in a lot of ways. We were limited during the lockdown that we couldn't visit stores as freely as we normally would. I would normally be in stores, in different stores every night, but obviously the concern of spreading COVID meant that I couldn't jump between stores the way I normally would, which meant that we communicated a lot more I'm on Teams or Zoom, or we set up... It actually forced us to set up more meetings with our teams, which was a really good thing for us.
Q:

What steps has your org taken to ensure the safety of employees & customers? 
A: The first thing we did when we went into lockdown was we developed a system where we could do zero contact deliveries and zero contact interactions in the store with our team, with our customers. So that means that our customers and our team members were safe, or we were able to keep them both safe. So zero contact delivery, we set up a system where we could deliver with still maintaining a safe distance. Like I said, we also introduced a checklist where we could monitor temperatures. So we still to this day check the temperature of team members before they start their shift. And we record that temperature, which is obviously bizarre, such a strange thing that if you asked me a year ago would we be doing that, I would have laughed and said it was the stupidest thing I ever heard, but yeah, we do that now.
Q: 

What will the "restaurant of the future" look like? 
A: There's no doubt that we are in the age of delivery. And so that's what we do, our businesses basically around delivery. So everything we can do to make it easier for a customer to order and then collect the pizza is probably important for us, and has been a big part of the innovation that's happened up until now and will continue to be, I think. Long term, I think our restaurant will be a lot more automated. I think that there will be a lot more things that will be... Because it's all about speed. It's all about getting products out of the oven faster, which means we need an oven that cooks faster. Is there a way that we can automate processes so that they move faster, they move more efficiently, there's less mistakes? I really think that the future, we've trialed delivering in lots of different ways, from drones to little delivery cars. So, I think the future for us will be... Will definitely involve robotics of some kind and automation and just speed, ways to do things faster. Our goal is to have a pizza ready in three minutes from a handmade, made to order fresh-baked pizza in three minutes. So if we're doing that, then we need things to be faster and more efficient.
Watch the full interview here: