Since its inception in the early 1970s, Earth Day, April 22, has helped spark change and spread awareness about ongoing environmental issues. But going green, especially in the foodservice industry, is no longer a one-day-a-year initiative; it's become a 24/7/365 concerted effort to better our planet.
88% of consumers tend to be more loyal to a company that supports social or environmental issues. As such, sustainability has become more than a buzzword; it's now an important consideration that customers take into account when making buying decisions. In foodservice operations, corporate accountability and transparency have become must-haves for customers to reflect positively on a product or service.
In honor of Earth Day this week, we're highlighting the efforts of several different Zenput customers who are leading the charge across the industry and reshaping the future by leading mission-driven organizations that impact communities and improve the environment. 
Chipotle

 
Recently, Chipotle pledged to cut carbon emissions in half by 2030, not only from its restaurants, but also from its transportation system and supply chain. Chipotle also releases annual climate reports that show much more than just their target metrics: they're transparent about whether those goals have been currently met, exceeded, or if they're still behind on them, as well as a real-time tracker that shows the environmental impact that is reduced in each digital order.
 
Chipotle also has a program that donates used equipment, like grills, food processors, and furniture to local schools and nonprofits. Additionally, its Harvest Program generates meals from leftovers that get donated to local communities, while also composting in nearly a fifth of its restaurants.
KFC
After announcing a new global sustainability commitment, all of KFC's plastic-based, consumer-facing packaging will be recoverable or reusable by 2025. In Singapore, KFC stores stopped providing plastic straws and cup lids altogether. The company also pledged to reduce the average energy consumed per restaurant energy and greenhouse gas emissions by an additional 10% by the end of 2025.

Across the UK and Ireland, a record 3,000 KFC team members participated in the Great British Spring Clean, in partnership with #keepbritaintidy, collecting over 20,000 bags of litter.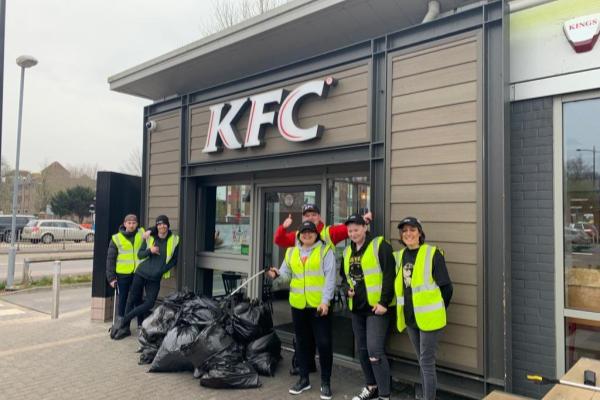 RBI: Burger King, Popeyes Louisiana Kitchen, and Tim Hortons
Restaurant Brands International Inc. (RBI) is one of the world's largest quick-service restaurant companies with more than $35 billion in annual system-wide sales and over 29,000 restaurants in more than 100 countries. Through its Restaurant Brands for Good framework, RBI improves sustainable outcomes related to its food, the planet, and people and communities, aiming to source key ingredients domestically wherever possible. RBI will collaborate with franchisees and suppliers to reduce greenhouse gas emissions by 50% by 2030. In addition, RBI has set a target to achieve net-zero emissions by 2050 or sooner. Learn more about RBI's progress at: rbi.com/sustainability.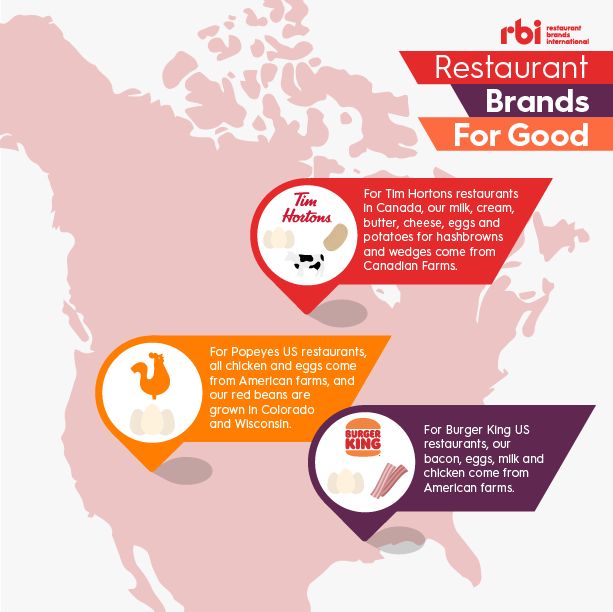 Taco Bell
Taco Bell followed suit by committing to make all its packaging compostable, reusable, or recyclable by 2025. Meanwhile, they also pledged to continue to be the top fast-food chain for vegetarians. Taco Bell provides a wide variety of vegetarian and vegan options for those looking to avoid meat, a climate resource-heavy protein. The brand has also pledged to use sustainable palm oil in its food.
sweetgreen
sweetgreen has a low-carbon menu collection available via its mobile app. Building upon its commitment to becoming carbon neutral by 2027, the low carbon collection highlights menu items that emit the lowest amount of carbon, including crispy rice bowls, shroomami, super green goddess, and guacamole greens.
In 2021, sweetgreen partnered with Junes, a female-owned company that makes tote bags from recycled materials, to create a limited-edition bag that customers received when they ordered pickup from the low carbon collection.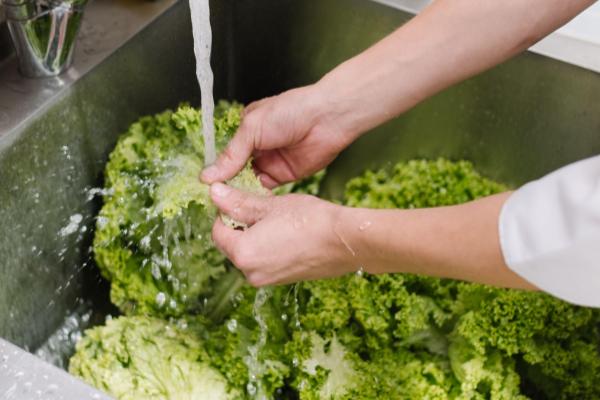 The efforts of the brands above demonstrate the importance of incorporating eco-friendly practices into foodservice operations every day - not just one day in April. Building a more sustainable future starts with environmentally-minded business practices. 

At Zenput, we work with thousands of foodservice operators to help eliminate food waste and bolster food safety standards – not only to optimize employee behavior and eliminate paper-based processes, but also to automate key aspects of food preparation, such as food prep labeling, temperature monitoring, and thermometer syncing, to help improve safety and reduce waste. To learn more about our customers, visit www.zenput.com/customers.