Zenput customers can now comment and @mention teammates on tasks and form submissions.
Zenput customers use our platform every day to perform important operational work really effectively—from critical pre-rush checklists to detailed food safety assessments—which can later be referenced by the team from anywhere.
While phone calls, text messages, chats in WhatsApp and other platforms are critical ways for teams to talk, it can create problems when citing specific work:
Confusion around what exact checklist, task, photo, etc. is being referenced
When others go back to reference the work later, they don't have access to information that was shared via phone, text, etc.
Today we're introducing the ability to comment on any task or form submission, for upcoming work or that which has already been completed, to make it easy for customers—working from the field, in stores, or in the office—to ask clarifying questions, follow up, share more information, and notify others in the context of work being completed in Zenput.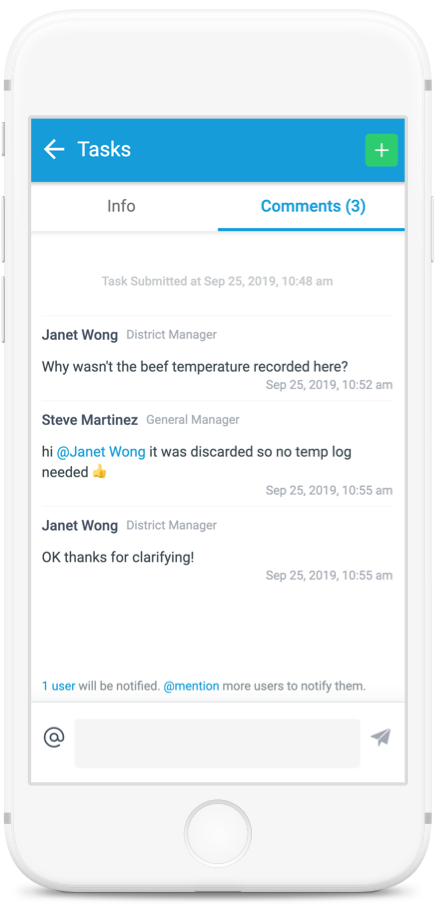 View of a submitted form with the new comments tab on the right.
How customers are using comments on tasks and form submissions
Customers are now using comments to communicate for a wide variety of reasons:
District manager suggesting that store manager contact equipment vendors based on answers provided in a specific checklist
HR manager reminding a store manager about submitting time-sensitive employee I-9 paperwork
Last-minute reminders for people when a scheduled task is about to expire but hasn't yet been completed
Using the @mention function to give VP of operations awareness about an in-store incident logged in a Zenput form
Another simple way to thank or give employees kudos on specific work
In construction, commenting directly on a specific blueprint (digital or printed) is a critical way to deliver feedback, notes, and instructions so that they're understandable and visible to others. Lawyers, editors and other office-type professions need the ability to add comments in the margins of documents to share ideas, make copy-edit suggestions and more, which would otherwise be near impossible to talk about effectively without context.
Likewise for the restaurants, convenience stores, and other retail chains using Zenput every day, the ability to add comments in the context of brand standards assessments, food safety logs, and other critical store and field work is now helping customers communicate more effectively.
Commenting is now available for users on web, iOS and Android on version 5.8.0 or higher.