Regardless of size, industry, or location, all businesses need to invest in the right tools in order to scale. In the restaurant industry, the technology landscape has expanded rapidly over the past decade to help operators improve operations, customer experience, and more. 
Now we've arrived in 2021, nearly a year after the onset of the COVID-19 pandemic, which has only amplified the need for technology to manage operations across all functions. Just as quickly as businesses had to roll out, update, and enforce new procedures and response plans, their investment in technology has accelerated to keep pace. 
From independent operators to large global chains, technology and investment decisions have gotten more complicated – how are certain solutions different from others, what areas of the business require attention, which should be a top priority?
Enter the 2021 restaurant landscape.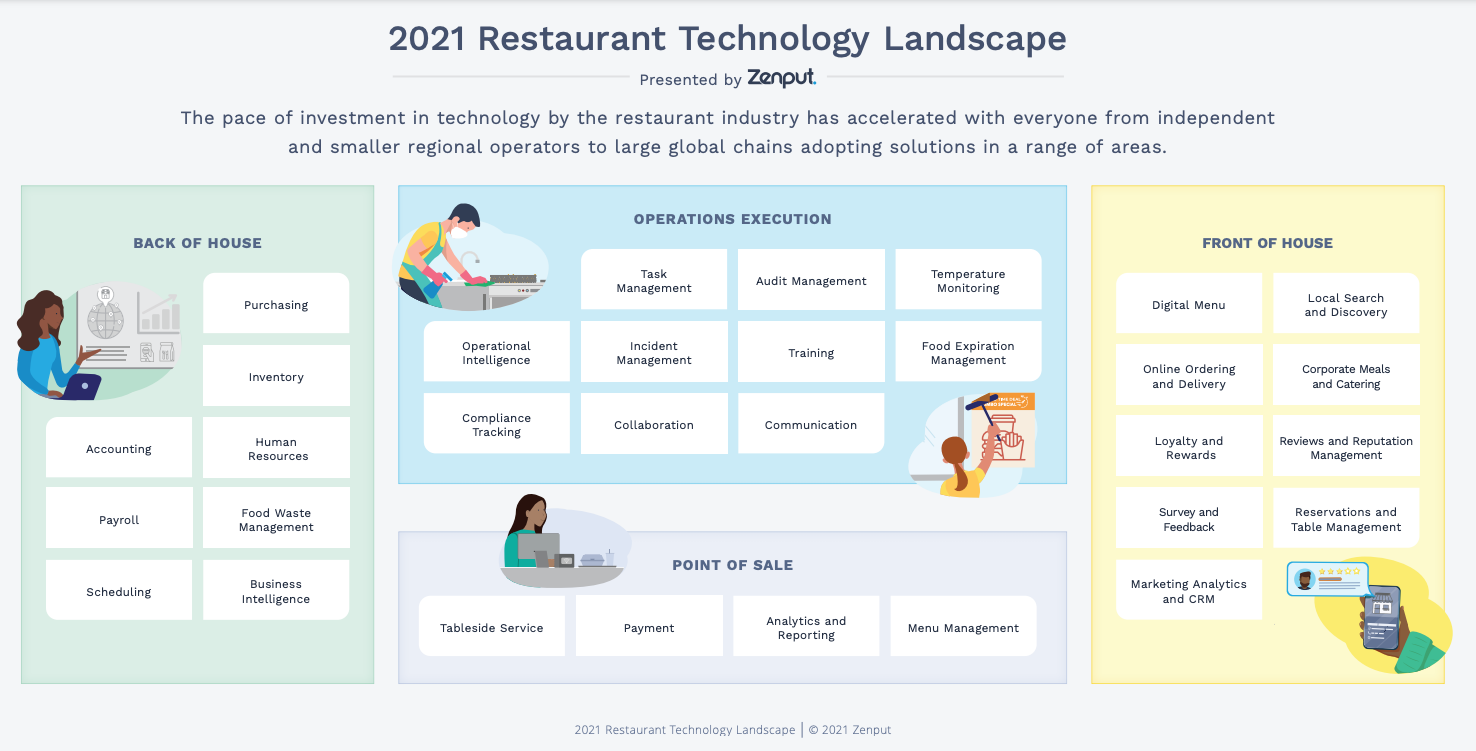 To run their businesses more effectively, restaurant operators are currently adopting technology in four key focus areas: Back of house, front of house, point of sale, and operations execution. As you think about your own technology investments, let's breakdown the current technology landscape, explore why each area is important and how they all fit together.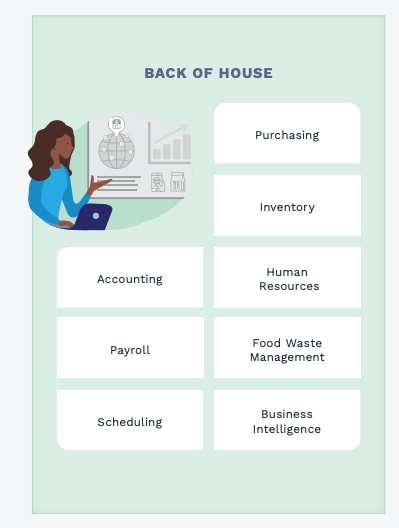 Back of House 
Back of house (BOH) solutions support and scale critical business functions from HR to accounting to purchasing. 
BOH technology developments are helping restaurant brands improve productivity and reduce waste in areas like supply chain and inventory management. And with more data at their fingertips, operations leaders can connect their BOH systems to other technologies (listed below) to make more intelligent, data-driven business decisions and optimize other areas, such as using food waste data to optimize inventory and food prep operations work.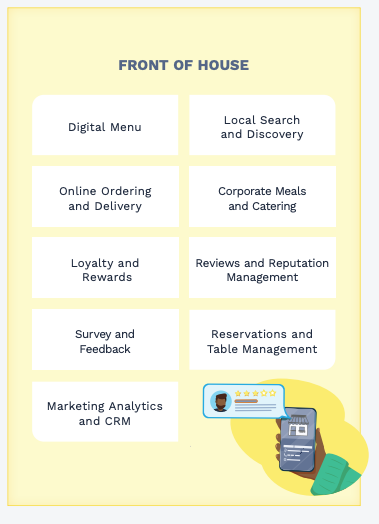 Front of House
Front of house (FOH) systems are your customer touch-points – giving you different ways to engage with customers and attract new ones.
From updating digital menu boards to capturing customer feedback, FOH tools exist to help create the perfect customer experience and engage them in new ways.

Point of Sale
Point of sale (POS) platforms are geared to optimize that pivotal interaction and transaction with customers.  It's where your menu of products (including LTOs and special promotions), employee training, and technology comes together to present a key opportunity to engage engagement customers and ensure a smooth and positive experience for them.

The information and insight captured by the POS system is also a gold mine that can be used to learn more about your customers over time.
Operations Execution
Operations execution (OpsX) platforms focus on where the work is actually happening in stores. While back office, front of house, and point of sale solutions are all an important piece of the restaurant technology landscape, investments in OpsX initiatives and the technology that enables them are key to improving visibility into and the quality of execution happening in every location. 
With a massive amount of innovation emerging in this area, OpsX technology helps drive the productivity of employees in the field and in your stores, and improve the consistency of work happening throughout the business. This is particularly difficult to achieve for restaurant chains that operate across dozens, hundreds, or thousands of locations, especially as they open new locations and hire more staff. 
OpsX solutions enable:
Operations teams

to be more agile, allowing them to quickly automate the rollout of new initiatives or updates to procedures and giving them visibility into potential issues before they impact the business.  


 

Field teams

to oversee store performance even when they're not on-site and perform audits more efficiently, giving them time back to spend on employee coaching and training.


 

Store employees

to reduce manual work and perform tasks correctly and on time, allowing them to focus on higher-value work, like interacting with customers.

Without an investment in OpsX, most operations leaders are left with a very limited view into how the work gets done, how compliance is maintained against processes, to what degree brand standards are being met, and the degree of overall operational agility across each location.
The kind of work that needs to happen is evolving faster than ever before. 
While the need for consistency across a business existed long before the pandemic, this sudden industry-wide shift has shed new light on the importance of investing in operations execution initiatives. Fortunately, advancements in mobile technologies and cloud computing are making OpsX solutions easily accessible by restaurant chains of all sizes.   

To learn more, click here to download our guide to agile operations execution.