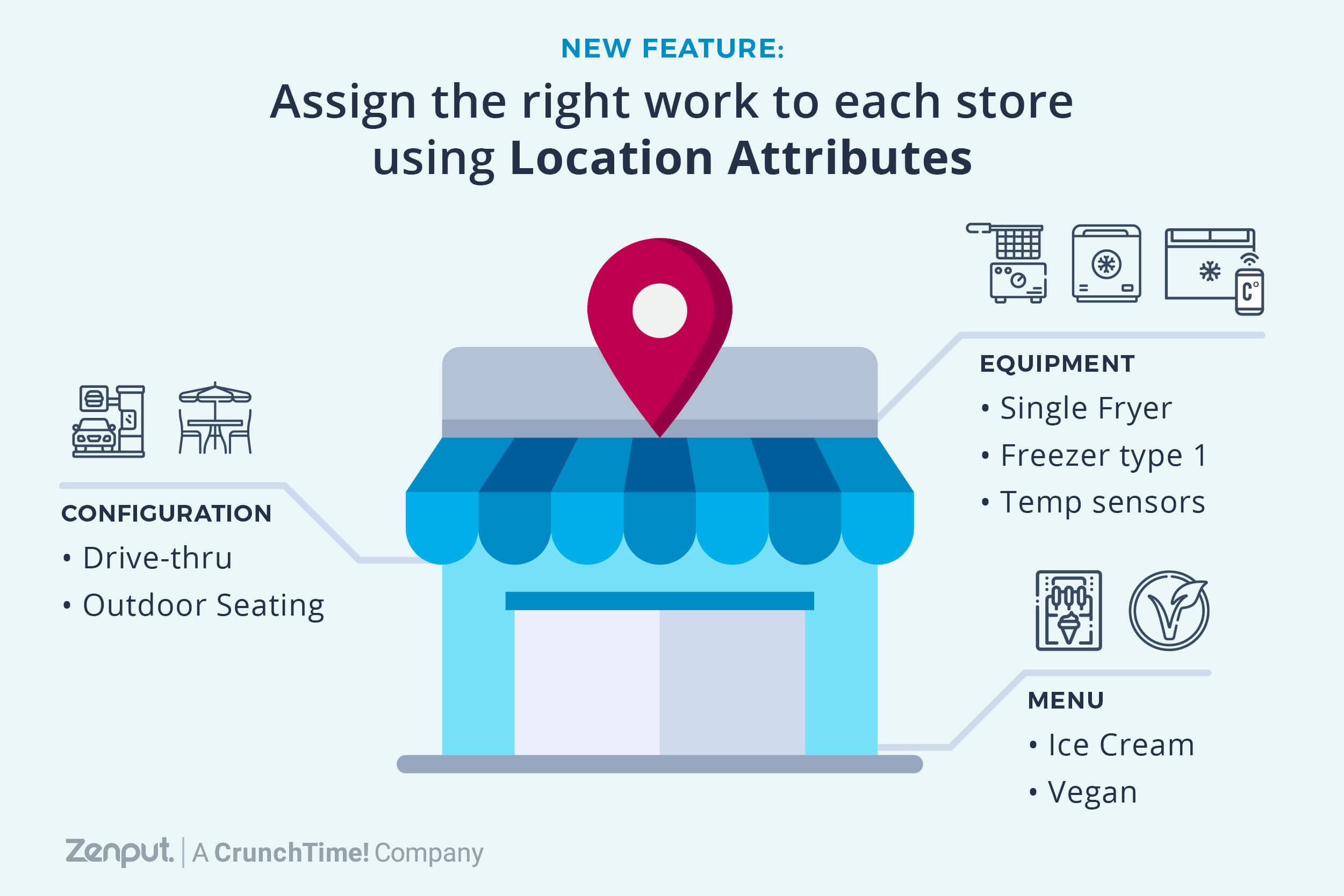 Standard operating procedures are standard for a reason: every one of your stores needs to do them. But what if one store has a drive-thru and the other doesn't? Or has different hours, different menu items, etc. How do operations leaders ensure the right work happens in each store based on the unique characteristics of each store?
The answer is typically problematic:
Stores get assigned work that isn't relevant to them. It creates confusion when stores aren't sure what work to complete or not – how can you clean a fryer that doesn't exist at your store?

Ops leaders have to manage multiple versions of the same checklists. What happens when you need to make a minor update to your daily opening checklist, but need to do it across a dozen different variations of the checklist?
Now in Zenput, customers can use Location Attributes to assign the right work to each store.
Zenput customers now assign Location Attributes to their stores – state, country, drive-thru, store layouts, menu items, etc. – which can be used to assign work to specific types of stores, and reduce the need for multiple versions of the same form, project, and report.
Let's say a brand like Wingstop has a quality assessment that they use for every store. In their locations in asian markets, rice is on the menu – how should Wingstop manage this difference to ensure that locations that serve rice have this on their quality assessment, but other locations don't?
Or California Pizza Kitchen which wants to comply with specific food safety regulations in different regions. Listen to Julie here:
Here's how it works:
1. Location Attributes:

Add an attribute like

drive-thru

to a location in Zenput
Operators can use any attribute they want – regional attributes like state or country, or general attributes like drive-thru, outdoor seating, serves breakfast, etc. You can add anything you want or need as an attribute.
2. Forms:

make questions visible only to specific stores
Instead of using 6 different versions of your opening checklist, have one universal form – add all of the questions you need, and adust the visibility so that only stores with the relevant attributes see those questions.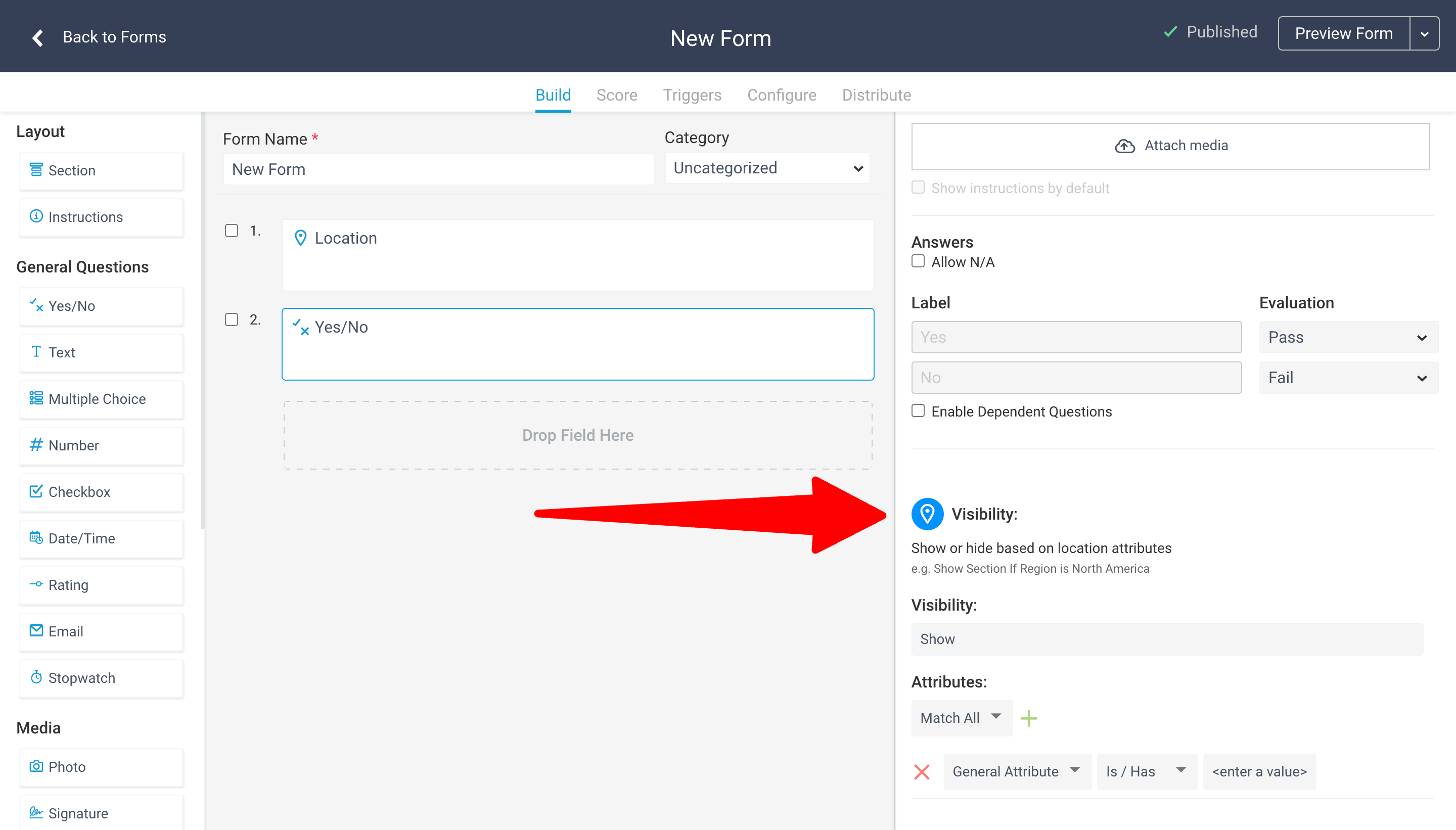 3. Projects: assign a checklist only to specific stores based on an attribute
Consolidate projects, OR send projects only to locations based on their attributes e.g. need to do a recall for a specific market, or only to stores that have a certain menu item. BOOM.
4. Announcements:

send an announcement only to specific stores based on an attribute
Send announcements only to locations based on their attributes e.g. send a weather warning and process-update to a region that will be impacted by a storm
5. Reports:

consolidate multiple reports with the advanced project completion report
Instead of pulling 6 different reports, use one report that reflects completion by all stores
Looking ahead
Historically it has been too difficult for operators to manage operating procedures and food safety processes at scale. With these new capabilities, operations leaders can feel good that their store teams will have an easier time completing work that's assigned to them (because there are no irrelevant questions), and it's infinitely easier to manage one form, one project, one report than it is managing dozens of variation.

For more details on how to add Location Attributes to your forms, projects, and announcements, visit the knowledge base.