The pandemic has reshaped thinking around hiring in the foodservice industry. When COVID-19 struck, over 5 million jobs were wiped out in just two months as businesses across the country temporarily or permanently closed operations. In the foodservice industry—which had about 12 million employees in February 2020—the number of employees plunged nearly 50% to 6.4 million in April 2020. Ohio, for example, lost nearly 263,000 jobs as the pandemic exploded, and only half of these positions have been recovered to date, according to the Job and Family Services Department.
However, with the reopenings and economic recovery that has come since, many of those businesses are looking to refill those positions or hire for new ones, but are faced with a new challenge: a labor shortage. 
Factors contributing to the challenge of filling jobs include fear of Coronavirus infection, supplemental unemployment benefits, reduced gratuities as customers opt to dine at home, alongside the attraction of remote or hybrid work situations offered by other sectors during the pandemic. 
In attempts to lure back employees who were laid off or voluntarily left the workforce at the height of the pandemic, the industry is desperately trying to fill openings with attractive offerings such as signing bonuses, tuition reimbursement, and other benefits.
Offsetting Staffing Shortages through Diversity
With an increased number of foodservice jobs available, companies are quickly realizing that in order to remain competitive, they must support inclusive and unbiased hiring and promotion policies and invest in training programs to ensure inexperienced workers can quickly gain knowledge and skills to hit the ground running.
This development represents huge opportunities to fast-track career growth paths. For those contemplating working in the foodservice industry, career growth paths are very likely to open quickly as those who are currently employed will be the first to move up the employment chain.
Opportunities for Entry-level Workers to Climb the Corporate Ladder 
COVID-19 has also expedited the departure of an aging workforce leaving businesses with difficulty in recruiting younger workers with the required technical skills. Many foodservice operators are now more willing to develop and train those who have little or no previous experience. 
Waiters, bartenders, and cashiers—positions that are ready-made for quick on-the-job training and require little or no formal education—are among the most-posted foodservice jobs by employers on Indeed between May 2020 and April 2021.
Cashiers

– Working as a cashier is often a stepping stone to other careers in retail. For example, experienced cashiers may become customer service representatives, retail sales workers, or sales managers. Cashiers with at least a high school diploma or equivalent typically have the best chances for promotion.


 

Waiters and Waitresses

– Job prospects for waiters and waitresses are expected to be very good, with employment in this area projected to grow

4% over the next decade.

With the easing of pandemic-related restrictions, more people are dining out and establishments, particularly full-service restaurants, will continue to use waiters and waitresses to serve food and beverages and provide customer service. Job prospects are further boosted because of the large number of workers who leave the vocation each year.


 

Bartenders –

The employment of bartenders is projected to grow 6% over the next ten years, faster than the average for all occupations. Population and income growth are expected to result in increased demand for food, drinks, and entertainment. More bartenders will be needed to meet this demand, especially in full-service restaurants and drinking places. In addition, grocery stores and movie theaters are also adding bar services, which will create further demand for bartenders in these businesses.
Real-life Case Studies Support these Initiatives
Career growth in the foodservice industry is competitive but these pandemic-driven changes have opened opportunities for those who wish to progress in the restaurant operations industry. Take Vincent Rojas, the GM of Freddy's Frozen Custard & Steakburgers in Norman, Oklahoma. Eight years ago, he rode his bike from his university campus to apply for jobs at Hobby Lobby and Big Lots - but never heard back. Along the way, he came across a new Freddy's restaurant being built, where he was hired on the spot. Today Rojas is the general manager of that same restaurant. Rojas' story is a clear illustration of why the foodservice industry remains one of the few sectors where people can walk in and work their way up the ranks–starting in entry-level but reaching executive management positions. Opportunities like this in the restaurant operations industry have accelerated in this pandemic era.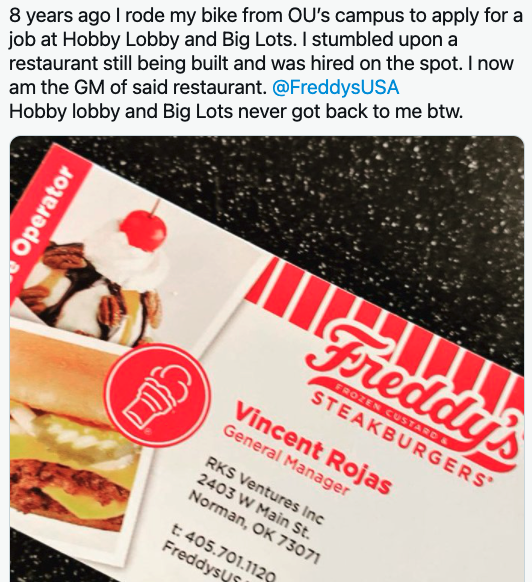 It's further anticipated that the foodservice industry's employment situation will continue to improve as vaccination rates increase and as more individuals hit the job boards with supplemental unemployment benefits fully expiring. With figures showing that June 2021 represented the sixth consecutive month of staffing growth, the industry has regrouped and made progress restaffing.
Zenput gives your teams the ability to do more with less so your entire restaurant operation can help build a more equitable business model. To learn more about turning new strategies and procedures into the right actions across all your locations, download the Agile Operations Guide.