Employees and customers need to feel safe every time they enter your restaurant – confident that food will be safe to eat, that accidents aren't just waiting to happen. But to ensure safety in every store requires more than just preparation – it should be embedded within the culture of the entire team.
Keith Roberts has spent the past 22 years at Pizza Express, and in his current position as Senior Quality & Safety Advisor, his primary focus is creating a safe environment for both employees and customers. Roberts explains that he sees safety starting from the roots and coming upwards. He recently joined Zenput at the OpsX'22 customer conference, where he shared tips he's gathered through the many years he's been in the industry.
3 strategies for establishing a safe working environment in your restaurants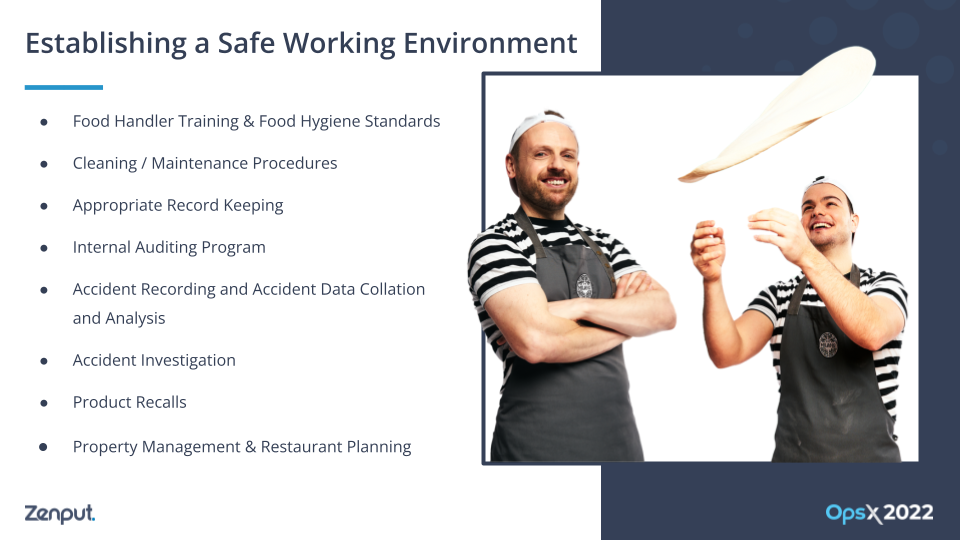 1. Balance a fine line between coaching & enforcing
While enforcing proper protocols and procedures is necessary, Roberts explains the importance of partnering, not policing, your teams. "You must be involved with the team and hear their feedback," says Roberts. With the day-to-day work being done at the restaurant level, gathering feedback from managers and employees is key to coaching for success.
2. Have the right technology in place
With over 400 Pizza Express locations, it would be impossible for Roberts and his team to physically oversee the daily operations in every restaurant. This is where having the right technologies and tools in place plays a critical role. 
While Pizza Express first looked to Zenput to help enhance their food safety culture, several other benefits quickly became apparent, including:
Opens up information the corporate office gets from restaurants, in real-time

Assigning key tasks and corrective actions when needed 

Single ecosystem for all audits, providing clear, visible data to show areas for improvement, areas of success, and everything in between
3. Fostering trust in the workplace 
Increasing safety compliance and risk management can also be done through creating an environment of trust and security in the workplace. As a whole, we are in incredibly challenging times, especially in the hospitality industry. Roberts shared a few ways Pizza Express goes about creating a safe and trusted environment across all 400 restaurants.
Relying on tangible data through checklists and feedback forms




Collecting data is important, but only when properly using the information collected. Roberts says they use feedback form data to ask, "How can we help team members? How can we support them?" Having all of this information in one place helps you to allocate resources as needed.


 

Weekly team member wellbeing checks




A private Zenput form goes out to managers on a weekly basis asking about team members and managers wellbeing. A Wellbeing Manager reads every single comment, reaches out to people as needed in a private and confidential way. Roberts again reinforces the importance of listening and taking action.
Roberts also shared that Pizza Express recently introduced mental health first aid into the business as another way to ensure the overall wellness of every person across the organization. 
Overall, if you embed safety in your company culture and systems, it is no longer just for audits, but an every day standard. It is always best to get in front of things, preventing risks from happening opposed to fixing issues as they arise.