Store managers and general managers these days have immense responsibility — the success of their individual store, and the brand of the multi-unit operation, depends on their ability to get things done.
The job requires an advanced degree of organizational skill and connectivity. Managing your store and the work happening in it means juggling a variety of different initiatives, including inventory, financials, recruitment, operating procedures, food safety processes, and more. 
And today, there are so many other factors at play that store managers have to use or be aware of: with social media and store reviews online, a single misstep lands the store (and brand) a viral social media post or a news story about a bad experience; lots of new technologies to use in-store to use for customer service or back-of-house operations – the list goes on. 
So while many people may think it only consists of opening stores and filling out paperwork, managers have quite a few critical responsibilities on their plate. 
Understanding what general and store managers

actually

do
From system-wide initiatives and implementing new policies, to increasing sales and supporting specific stores every day, general managers are responsible for keeping the business running. Add to that the new changes that multi-unit operators have adopted in the past two years, from new sanitization procedures, curbside or delivery services, government mandates, and changing store hours, and it gets even more complicated to ensure each store's success.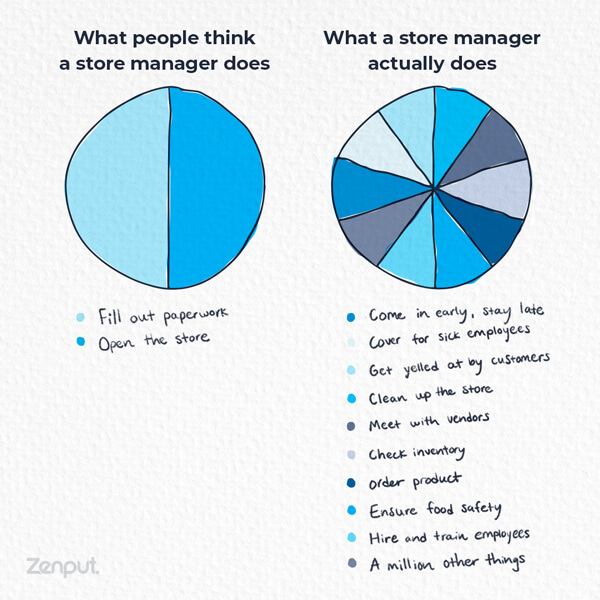 With these new standards and expectations, all of which will require dynamic, innovative thinking, managers have had to adapt and take on more than ever before. In today's reality, general managers need to be able to do their jobs even when not physically in stores. Fortunately, technology exists to help handle each of their responsibilities more efficiently in every store, giving them more control and insight than ever before, allowing them to confidently manage from anywhere.
Making sure work is completed, every day in every store 
Managers now have the ability to organize, automate, and track essential work that was difficult or impossible to do previously. Having the knowledge of and visibility into what work is, or isn't, being done in any given store gives you the ability to address it immediately. Accountability metrics can be built right into digital tools used in stores so that the employees involved must meet these criteria in order to complete their assigned tasks. 
The value of standard operating procedures ultimately depends on how well they're implemented by managers. Getting managers to adopt new technology in each store can make or break the success of any new initiative. As a growing IHOP franchisee, River Road Restaurants wanted an operations-focused solution that could be easily implemented and adopted across all locations.
As a general manager for the brand, Stephanie Sipes is seeing the positive impact that technology has on her role. "Zenput has truly made my job easier. As a general manager, it was easy to pick up on and not hard to understand. It shows me key areas I need my team to focus on, and I've easily taught other managers how to use it too." 
At the beginning of every shift, using Zenput is required as part of the routine for all stores in River Road's organization. River Road uses Zenput daily for safety audits, time and temperature walk-throughs, district manager evaluations, IT maintenance tickets, HR reviews, and training assessments. All levels of leadership are able to log in and see snapshots of the day at each store, including financials, temperatures, cleanliness, guest focus areas, and uniforms, even when not physically present in stores. Via easily shareable reports, all levels of management and ownership can see which stores are hitting their deadlines, allowing them to easily identify trends and prioritize focus.



Focusing on higher-value work
Recent research by Technomic and Zenput found that, on average, daily operational and safety tasks in restaurants, supermarkets, and convenience stores take anywhere from 11-14 minutes each to complete. Some tasks, such as cleaning and sanitizing, get performed multiple times over the course of a regular work day, amounting to 7-9+ hours a day to complete. That's a significant chunk of time across the board for both managers, and employees.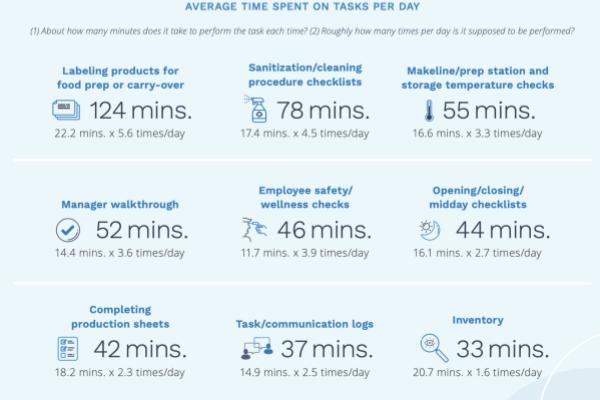 With the time spent in these areas, there is an opportunity to make sure teams prioritize more important work, and automate where possible to save time. As a technology provider, we wanted to better understand exactly how Zenput helps make managers, and employees, more efficient and more effective at doing their jobs. Here's what we found; Zenput customers are saving 5+ hours per week by store employees. With these time savings, managers can focus on higher-value work like interacting with customers and training employees.
Restaurant, convenience store, grocery, and other retail operators continue to digitize different aspects of their business. Brands are innovating faster than ever, and increasingly using operations execution software to meet the modern demands of running a multi-unit operation. As a manager, the right technology will help you do your job more effectively, while also helping your teams and stores thrive. To learn more about how Zenput helps store managers read the full case study: IHOP Franchisee's Store Managers Quickly Adopt Zenput to Improve Operations.