With the effects of the COVID-19 pandemic still echoing in the workplace, it is more essential than ever to minimize risk and make employees feel safe in their work environment. Even as we move beyond the pandemic, it's crucial for multi-unit operators to implement a stringent employee health and wellness check program to help identify, manage, and avoid future healthcare concerns.
Performing daily health and wellness checks before employees enter the premises will help quickly detect any signs of illness before starting their shifts. With these precautionary procedures in place, you can prevent potentially ill employees from infecting colleagues and customers while protecting your brand and bringing some more stability to your staffing situation.
Employee Health and Wellness Checks: Best Practices
Checks at the Door
The first and easiest check is temperature monitoring: using infrared thermometers to identify if an employee has a fever, and therefore might be ill. Medical experts agree that while it is an important intervention, it's part of a much broader strategy.
An employee survey is another simple but effective way to keep track of employee health, and it's absolutely vital if they have recently traveled internationally. Your questionnaire should determine if employees have experienced any symptoms of illness or infection during the last 24-hour period.
A common best practice is requiring the manager on duty at each location to complete a form for both themselves as well as each employee before they begin their shift.
Screening Checklist
There is no one-size-fits-all approach to creating an employee health and wellness screening checklist. The form will vary quite a bit according to your operation size, location, and facility restrictions. However, here are some key elements to consider when  developing an effective checklist:
1. Basic Details
Start by collecting basic info: Location, Date, Employee's Full Name, Employee's Contact Information
2. Pass/Fail Items and Triggers/Alerts
The following pass/fail items will trigger dependent questions in some cases and trigger alerts/tasks in others.
1. Has the employee been in contact with anyone experiencing the following symptoms? Fever, cough, shortness of breath, extreme tiredness, chest pain or pressure, loss of smell/taste, vomiting, diarrhea, jaundice, sore throat, runny nose
If the answer is yes...(what happens here? Are they sent home? Or does the manager just make a note?) Employees with diarrhea or vomiting MUST BE EXCLUDED from work per local jurisdictions' guidelines after symptoms are gone.
2. Is the employee currently experiencing any symptoms?
If the answer is yes, ask
2.a What symptoms is the employee experiencing?
If the answer IS fever, cough, or shortness of breath: employee is sent home and must provide contact info. Manager immediately sanitizes hands, disinfects area, etc. Additional Triggers: alert District Manager to employee condition and trigger follow-up task for store manager to check on symptomatic employee within three days.
If the answer IS NOT fever, cough, or shortness of breath: manager notes other symptoms.
3. Is the employee experiencing fever, cough, and/or shortness of breath?
If the answer is yes: employee is sent home and must provide contact info. Manager immediately sanitizes hands, disinfects area, etc. Additional Triggers: alert District Manager to employee condition and trigger follow-up task for store manager to check on symptomatic employee within three days.
4. Will the employee be getting tested for COVID-19?
If the answer is yes: employee is directed to immediately report their results to their manager.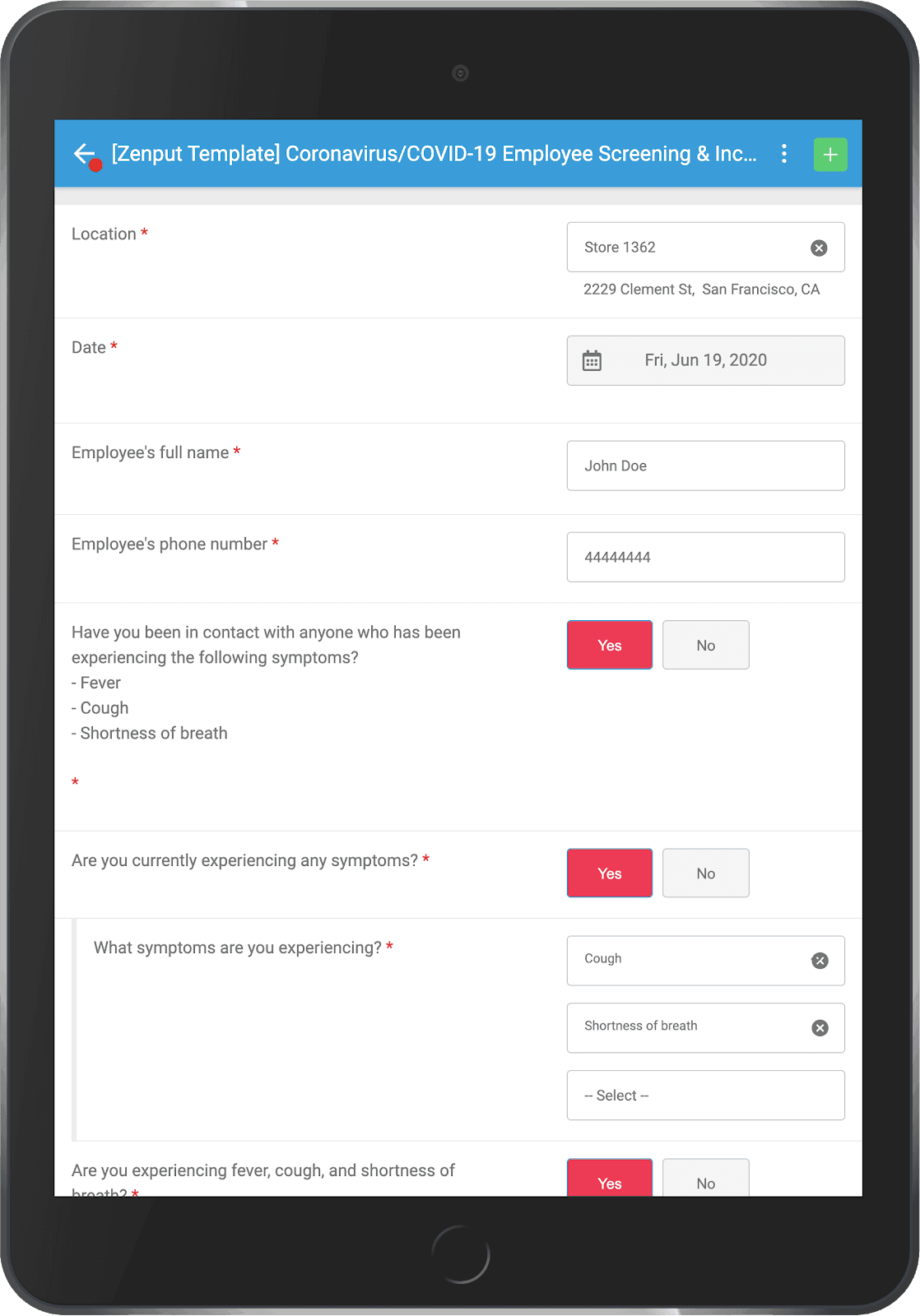 Wellness Reporting and Analysis
For effective analysis and contact tracing, you need to digitally store records of screening data in a central location that can be quickly accessed from anywhere. This also helps you create a long-term wellness strategy for advanced workplace wellness analytics.
Wellness reports can address operation-wide issues before they become more serious problems. Operators can use aggregate information to gain actionable insights and know what is happening in every store. This allows managers to make informed investments and decisions that will have the most impact on their performance.
If troubling health trends persist in certain stores, you may want to re-evaluate store cleanliness, hygiene standards, and structural conditions that may cause illness in the workplace. Managers can start relating employee health and wellness to productivity, work satisfaction, and top-performing stores.
Populating manual spreadsheets is a tedious and error-prone process. Implementing a tech-based solution to automatically track and analyze health screening data is far more effective. It offers instant alerts, allows for real-time head-office data access regardless of store locations, and offers more accurate and timely reports.
Hand Sanitizer and Cleaning Stations
Sanitization and cleaning of equipment is important, especially in foodservice operations. Regular handwashing, sanitizing, and wiping down equipment have proven to be effective measures to help slow the spread of pathogens.
Part of your health screening protocol must include the provision of sanitizer and disposable wipes at the entrance. There should also be sanitization stations distributed at strategic points across your facility.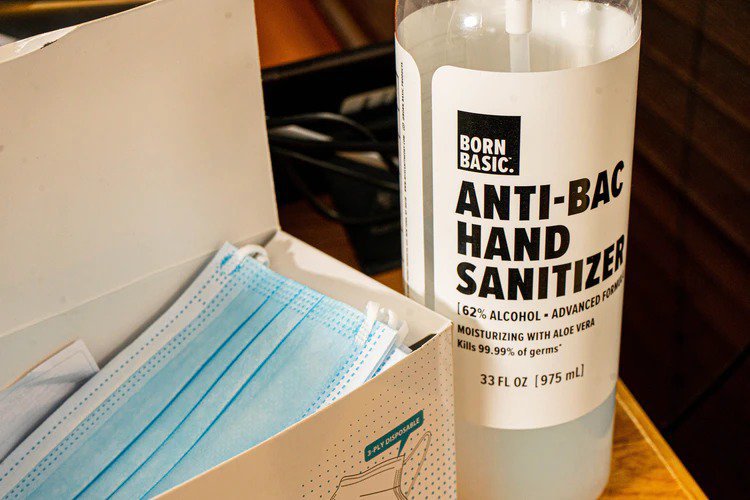 Facility Cleaning and Hygiene Checklists
Incorporate health checkpoints and checklists into the normal workflow of your operation throughout the day. This should include regular cleaning and hygiene checks at specified intervals around the kitchen, production areas, and service equipment.
Incorporate Multichannel Communication
Multi-location enterprises should implement a system that enables automated communication including, email, text, and mobile app alerts. Updates need to be communicated to leadership, managers, and employees immediately should there be a health emergency.
If, for example, an employee registers COVID-19 symptoms on their arrival at the work premises, head-office, managers, and other staff can immediately and automatically be notified via text, mobile app notifications, or email and implement the necessary precautions to keep the premises safe for other employees and customers.
Coordinate with Network Physicians
More in-depth, non-compulsory health screenings coordinated with a network of physicians could also form part of your health and wellness check program. Employees respond better to screening sessions from physicians who can offer immediate recommendations, monitor progress, and follow-up sessions.
Rolling Out Your New Program
Here's how to implement health screenings and get employees on board straight away:
Communicate the importance of a health screening process to employees by outlining screening guidelines. Make sure they understand that it is not only about protecting the company, but also for their own well-being as well as that of customers. Adopt a rational approach. Dialing up the fear factor will make employees anxious and affect their productivity levels and interaction with customers.
You may need to invest in touchless forehead thermometers, sanitizing equipment, additional cleaning equipment, and cloud-based tracking technology. (Manual processes can delay results and work progress and waste valuable time of managers and health screening facilitators.)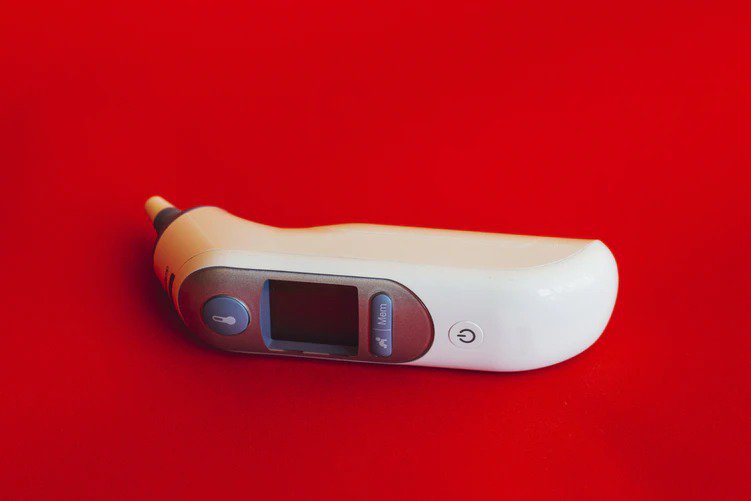 Zenput Helps 

Equip Every Store to Stay Safe and Act Fast
It's always a good idea to mitigate risks before they turn into full-blown crises. By providing a safe environment, you will reassure your employees and customers of your commitment to their health and wellbeing. The key to success is to be agile enough to act quickly while keeping customers and employees safe.
Whether you are looking to create digital checklists for staff to complete every day, or checklist templates for sanitization, employee screening, or general safety information, Zenput offers a reliable and instant tech solution to simplify and streamline the implementation of an employee health and wellness check program.
Schedule a demo today and learn how our cutting-edge systems can enable your staff to quickly roll out, update, and enforce public health procedures and response plans.