Since Zenput's early beginnings in 2012, it's been important to create and maintain an environment where people feel connected to one another and the company's direction — a place where employees can be themselves, and enjoy the journey together. Building a great company is a marathon, not a sprint, so the journey is everything.  And, what makes the most important part of the journey? The crème de la crème? (yeah, we like food a lot here - more on that below) The main ingredient?. . . The people.
The Zenput team is full of talented and unique individuals, but as a group, there is one thing we all have in common: an appreciation for delicious food! We like food a lot here at Zenput, from our mission and vision of making every meal a safe meal by empowering our customers to drive quality execution every day, to one of our main core values: Be Hungry, to our very own Zenput cooking challenge - it's pretty clear we're a bunch of self-proclaimed foodies and proud of it. We even have our own dedicated #fun-food channel on Slack, where you'll find many of our team members sharing photos of their creations. 
As Thanksgiving week is upon us, we've compiled some of our favorite recipes from our employee cooking blog series: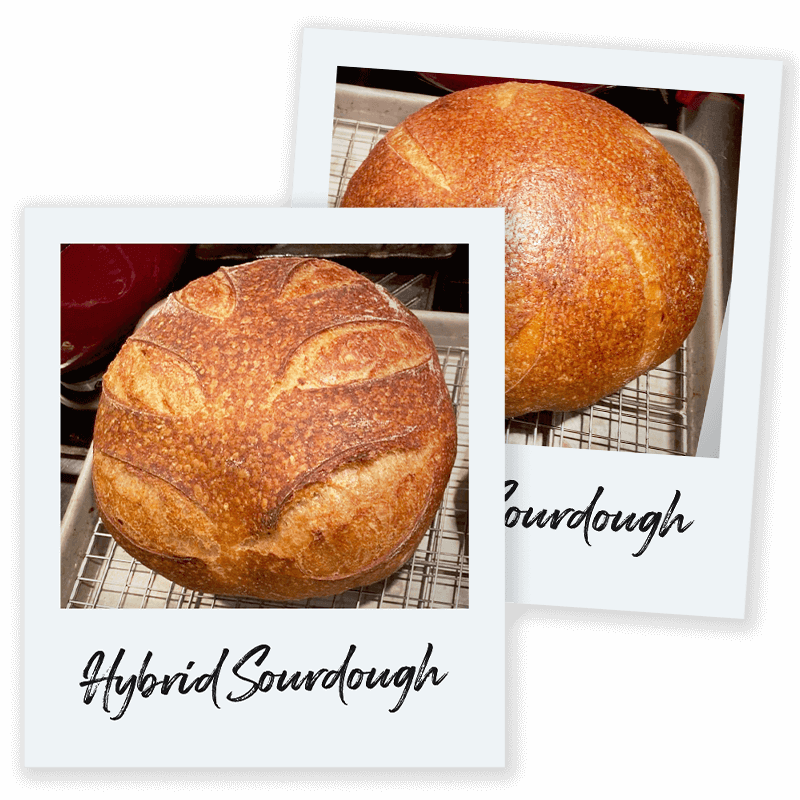 Up first, everyone's favorite carb: bread! No true feast can begin without a freshly baked loaf of bread on the table. Here's an employee recipe for Hybrid Sourdough:
Tools:
Dutch oven or other heatproof dish with a lid (like a glass Pyrex baking dish)

Bread proofing basket (Banneton)

Scoring Lame (or sharp razor blade)

Bench scraper (optional, but preferable)

Large bowl


 
Ingredients:
700g white bread flour (preferably unbleached; I prefer King Arthur)

300g whole wheat flour

700g warm water (85F-105F, depending on weather)

200-300g Starter (

recipe

)

20g kosher salt

Little bit of olive oil


 
Instructions:
Mix flours together.

Mix in water and combine until dough is fully hydrated and there are no dry clumps.

Cover with towel and let rest for 20-30 min (Autolyse- gluten development)

Dough should be wet and sticky, but you shouldn't have a lot of dough on your hands

Add starter and mix in.

Add salt (dough should be wet, but not stick to fingers too much)

Knead dough vigorously for 10-15 min until it passes the

dough windowpane test

Coat bottom of large bowl generously with olive oil, put loosely shaped dough in, and brush top of dough with olive oil. Cover with damp towel. 

Bulk fermentation/proof: let dough sit in a warm spot (70-90F) for 3-9 hours or until dough about doubles in size.

How to tell when bulk fermentation is complete: there should be bubbles on the dough surface and dough should "jiggle" when shaken. Poke the dough in  ½ inch with a floured finger- the dough should spring back slowly, but leave a dent. If the dough springs back completely, allow to proof further. If the dough doesn't spring back at all or collapses, it has overproofed- if this happens, you can still try continuing on to the next steps, but it might not turn out as well.

Gently remove the dough from bowl. Split dough approximately in half with a bench scraper. 

Try not to agitate the dough or worry about splitting it evenly too much. Agitating the dough will cause gasses to escape and the dough to lose volume.

Shape dough into loaves and place, upside down (seem side up), into lightly floured dough basket (Banneton). Lightly dust dough with flour.

Cover with towel and refrigerate for 12-24 hours (more time = more sour)

Preheat oven to 475 and put empty baking dish inside for at least 10 minutes so that the dish fully heats up.

Once oven is fully heated, remove dough basket from the refrigerator. 

Remove the dough from basket and place right side up onto parchment paper (dome side up).

Carefully place loaves on parchment paper and into baking dish (careful, the dish will be hot)

Bake at 475 for 15-20 minutes with lid on.

Remove lid. Bake for an additional 20-35 min until internal temp reaches 205-208F and crust is a deep golden brown. 

Remove loaves from dish and let rest on wire rack, uncovered, for at least 2 hours before eating.


 
Read the full article here to learn the story behind the recipe.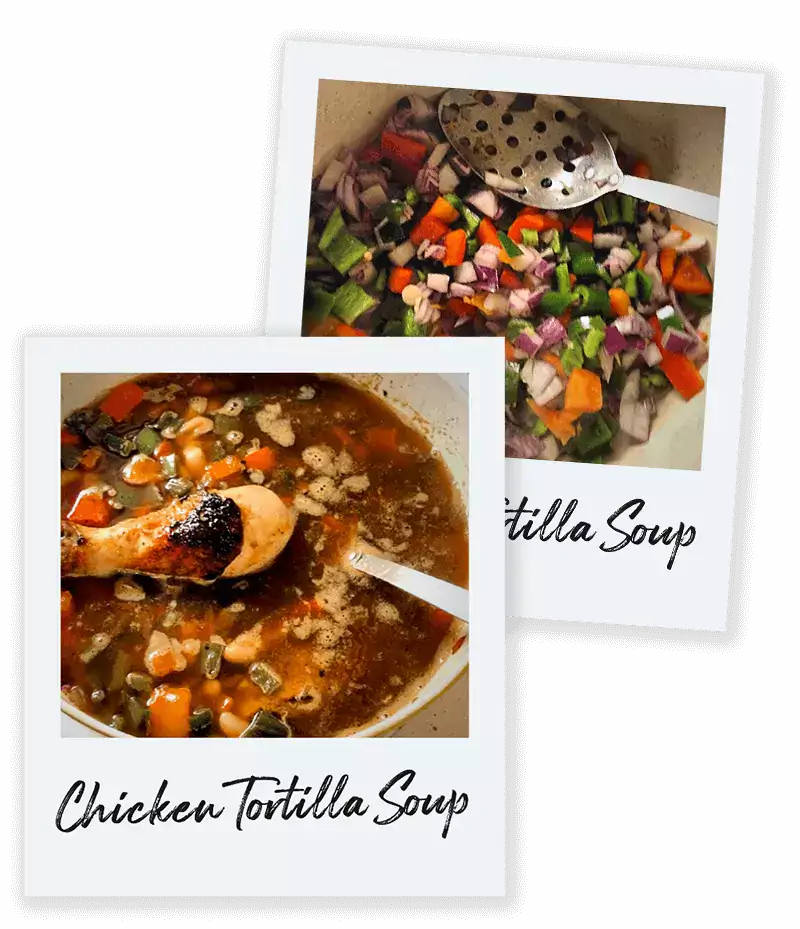 Next, an appetizer that will add some spice - perfect to ward off that post-turkey tryptophan-induced coma. Here's an employee recipe for Chicken Tortilla Soup: 
(Serves 4-6 people)
Ingredients:
For soup
3 pounds bone-in, skin-on chicken breasts, thighs, or a mixture of both

Freshly ground black pepper

1 tablespoon vegetable oil

2 medium jalapeños, stemmed and finely chopped

2 medium poblano chiles, stemmed and medium dice

1 medium red bell pepper, cored, seeded, and medium dice

1 medium red onion, medium dice

4 medium garlic cloves, minced

1 tablespoon ground cumin

1 teaspoon kosher salt, plus more as needed

1 teaspoon chili powder

4 cups (1 quart) chicken stock or low-sodium chicken broth

2 (15-ounce) cans cannellini beans, drained and rinsed

2 tablespoons freshly squeezed lime juice (from about 2 medium limes)
For serving
1 cup shredded Monterey Jack cheese (about 3 1/2 ounces)

1/2 cup coarsely chopped fresh cilantro

2 medium scallions, thinly sliced (white and light green parts only)

Tortilla chips


 
Steps
Pat the chicken dry with paper towels and season generously all over with salt and pepper; set aside.

Heat the oil in a large pot or Dutch oven over medium-high heat until shimmering. Working in 2 or 3 batches, add the chicken and cook, turning occasionally, until it's browned all over, about 6 to 8 minutes per batch. Transfer to a large plate and set aside.

Reduce the heat to medium. Add the jalapeños, poblanos, bell pepper, and onion to the pot and season with salt and pepper. Cook, scraping up any browned bits that have accumulated on the bottom of the pot and stirring occasionally, until softened and just starting to brown, about 5 minutes.

Add the garlic, cumin, measured salt, and chili powder, stir to coat the vegetables, and cook until fragrant, about 1 minute.

Add the stock or broth and beans and stir to combine. Return the chicken pieces and any accumulated juices to the pot and bring the mixture to a boil. Reduce the heat to medium low and simmer until the chicken is cooked through, turning the chicken halfway through, about 40 to 50 minutes total. Turn off the heat.

Remove the chicken to a cutting board. When it's cool enough to handle, remove the meat and set it aside (discard the skin and bones).

Using a potato masher, lightly mash about half of the beans and vegetables, leaving the remaining half intact. Stir in the shredded chicken and lime juice. Serve with the cheese, cilantro, and scallions and tortilla chips on the side.


 
Read the full article for a pro-tip.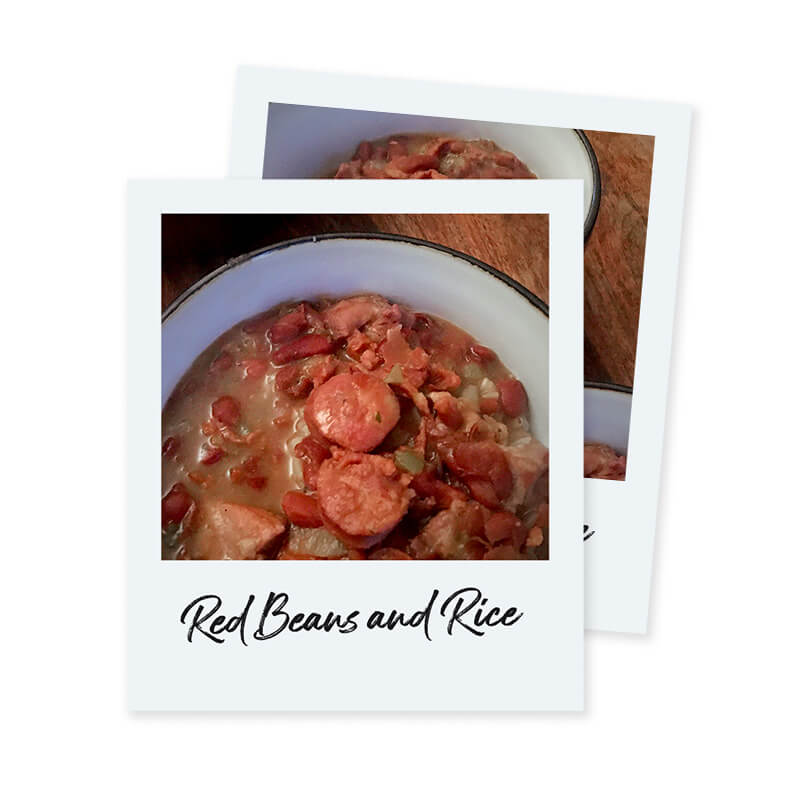 Even though we call them 'side dishes,' everyone knows that these thanksgiving table staples always steal the show. Try this employee recipe for red beans & rice Red Beans and Rice that will give your turkey a run for its money. 
Ingredients:
3 cans of red kidney beans

1 Vidalia onion, diced

1-2 green bell peppers, diced

3 cloves minced garlic

½ pound andouille sausage

4-5 slices of smoked bacon

So much Old Bay seasoning or creole seasoning

Tsp cayenne

1 ½ tsp dried thyme

2 bay leaves

2-ish quarts Chicken stock

Salt & pepper as needed

2 cups of white rice (I prefer Jasmine rice)


 
Steps:
Slice the bacon into inch long pieces; then on low heat in a large heavy stockpot, render the fat out. When the bacon is nice & crispy, remove the bacon pieces and leave the bacon fat. Don't eat all the bacon bits, we'll need those later. 

Add the diced onions and green bell peppers and sweat them until they're soft and translucent. Then mix in the garlic, Old Bay/Creole seasoning, thyme, cayenne. 

Add the sliced andouille sausage & the bacon and let all the ingredients mingle for a minute or two, stirring regularly. 

Add the three cans of red kidney beans, making sure to drain some (but not all) of the canning liquid before adding to the pot. Add the bay leaves and cover the whole mixture with chicken stock. Bring to a boil. 

Once the mixture is boiling, reduce to a simmer. Let simmer for 1 ½ - 2 hours occasionally using the side of a large wooden spoon to smash some of the beans on the side of the pot. You should aim to smash ⅓ - ½  of the beans to help thicken the mixture.  Taste for seasoning and add more Creole seasoning, salt or pepper, keeping in mind that the flavors will intensify as the mixture reduces. 

Once the red bean mixture is reduced by 25-30% and thickened to your liking, cook the rice using your preferred method. Make sure to rinse the rice thoroughly before cooking to remove the excess starch. 

To plate, add a scoop of rice to a bowl and cover with red beans. Optionally, serve with warm crusty bread. Not optionally, enjoy. 


 
Read the full article to see what inspired this recipe.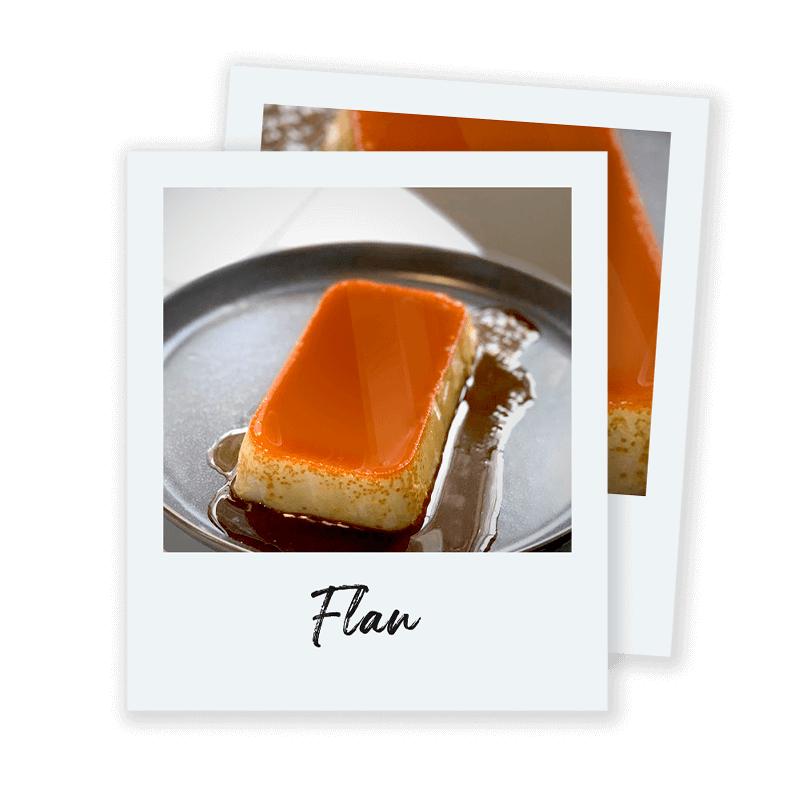 Last - but certainly not least - there is always room for dessert! Try this employee recipe for Flan for a sweet treat. 
Ingredients:
2 ½ cups sugar

2 cups whole milk and 1 cup heavy cream

2 strips lemon zest

⅛ teaspoon salt

6 large eggs

2 egg yolks

½ teaspoon pure vanilla extract

 


 
Steps:
Make caramel: Pour 1 cup sugar into a saucepan. Place over medium heat and bring to a boil, swirling the pan to combine the sugar and water. Do not stir. Let boil until deep amber in color, swirling the pan occasionally to caramelize evenly, about 10 minutes total. Watch the pan carefully after the mixture starts turning golden; it will quickly become light brown, then amber, then dark amber.




 

Immediately pour caramel into a 9- by -5-inch loaf pan and swirl to coat the bottom evenly. Set aside to harden.




 

Heat oven to 325 degrees.




 

In a saucepan, combine milk, lemon zest, salt, and remaining 1 1/2 cups sugar. Over low heat, heat through, stirring to melt the sugar. Set aside.




 

Using a hand blender, combine eggs, egg yolks and vanilla. Blend until smooth.




 

Remove the lemon zest strips from the hot milk mixture. While blending, gradually pour the milk mixture into the eggs. Go very slowly at first so that the eggs don't cook from the heat of the milk. Blend just until smooth. Pour egg-milk mixture into the caramel-lined pan.




 

Place a 9- by- 13-inch baking dish in the lower third of oven. Carefully place the loaf pan in the baking dish. Pour hot tap water into the baking dish until it comes about halfway up the sides of the loaf pan.




 

Bake 55 to 65 minutes, until flan is set but still jiggly in the center. Remove flan from water bath and cool on a rack for 30 minutes. Refrigerate, uncovered, until cold and firm, at least 8 hours or up to 3 days. The caramel will soften as it sits.




 

To unmold, run a thin sharp knife around the edges. Center a flat-bottomed platter or serving dish with a rim on top of the pan and, holding both, carefully flip the pan and plate together. The flan will fall onto the plate with a squelch; lift off the pan and let the caramel run all over the top. (If the flan doesn't come out, flip it back over and rest the bottom of the pan on a hot wet kitchen towel for a few minutes, to melt the caramel.) Serve chilled, in slices.


 
Read the full article for more tips and tricks.
 
If you couldn't tell, as a team we stay hungry - not only to have fun in the kitchen but also to reshape what's possible for our customers - some of the world's top brands. We're hiring - join us for our next cooking challenge, and on our journey to help our customers achieve operational excellence across their business. To learn more, visit zenput.com/careers.